Women's Apparel
long sleeve
Not a sweatshirt and not a tee. This long sleeve, crew neck top by Gear is soft and comfortable made of 55% cotton and 45% polyester. Loose bottom cuff and half zipper in back.
$33.95
100% preshrunk cotton long sleeve tee. Screen printed on front and down left sleeve.
$19.95
outdoor wear
Soft and lightweight, this scarf is machine wash and dry in 50/50 blend. 36" long.
$17.95
Soft, sweatshirt material resembling the high school 'letter jacket'. Front zipper is covered with snap closures for added protection from the cold. Two front side pockets and a detachable hood.
$56.95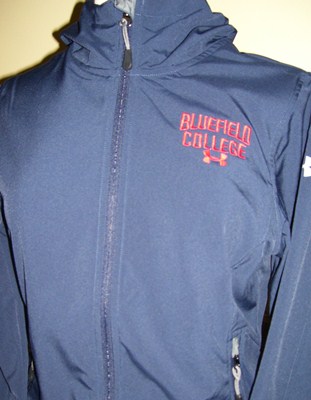 Wear this water-resistant Under Armour Coldgear storm jacket to be warmer, drier, and more comfortable than ever before. Semi-fitted for the ladies and hooded. Full zip front, zip side pockets and velcro cuffs. Shell ...
$79.95
sweatshirt
A sharp sweatshirt in charcoal that gives the location and establishment date of Bluefield College embroidered on the front. Hooded, full zip front and front pocket.
$43.95 ON SALE: $28.57