RAM Fan Gear
seasonal
RED ONLY. A distinctive glass ornament in a holiday greeting gift box with our official seal printed on front and back.
$8.95
sweatshirt
This sweatshirt is so soft inside. With crew neck and front pocket. 80% cotton and 20% polyester allow for machine care.
$32.95 ON SALE: $26.36
Perfect for when you want a hoodie without the bulk of a heavy sweatshirt, this is lighter weight than most and has a ladies cut. "RAMS" screen print on the front is tan. Other print is white with a distressed look. Arm seams and ...
$39.95 ON SALE: $31.96
t-shirt
This bright tee in school colors is made of 100% cotton. Short sleeve.
$16.99
Show your RAM support in this 100% cotton, short sleeve tee in royal blue with white distressed imprint at a great low price.
$10.95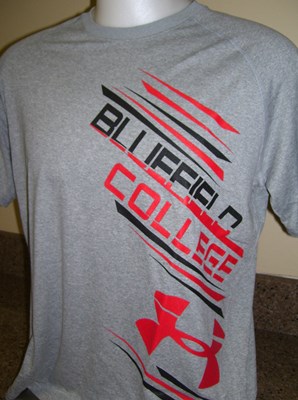 Wear this heatgear, loose fit Under Armour tee to feel cool, dry and light. 100% polyester allows for machine wash and tumble dry. Large UA logo.
$30.00 ON SALE: $24.00