Meet Your BC Leadership Team
Bio
Ruth is a graduate of Emory and Henry College with a B.S. and is a graduate of Virginia Tech with an M.A. in Accounting. Before coming to Bluefield College she worked for Brown Edwards and Company as an auditor. Ruth is married to John Blankenship, a Virginia Cooperative Extension Agent and they have a son, Matthew. The Blankenships live in the farming community of Thompson Valley and participate in running the family farm. Ruth is an active member of the Pleasant Hill United Methodist Church, a member of the Tazewell County Fair Board of Directors, a member of the Thompson Valley Fire and Rescue Auxiliary, Bluefield (Virginia) Rotary, a Tazewell County 4-H Volunteer and has represented Virginia 4-H regionally and nationally. Ruth is active in working to seek economic development for this region by serving on Bluefield, Virginia's Economic Development Authority and is chairwoman for the Southwest Virginia Workforce Investment Board. Ruth and her family enjoy spending their spare time on South Holston Lake.
Bio
Dr. Flowers came to Bluefield from Montreat College in North Carolina, where he served six years as provost and senior vice president for academic affairs. While at Montreat, he spearheaded the development of new undergraduate degree programs, as well as master's degree programs. He also led the creation of new online degree programs, an Honors Program, and the Montreat College Undergraduate Research Symposium. In addition, he served three months as acting president.

Before Montreat, Dr. Flowers served two years as provost and vice president for academic affairs at Bethany University in California after working one year as senior vice president for institutional research and 17 years as senior vice president for academic affairs at Northwest University in Washington. At Northwest, Dr. Flowers led the creation of 17 new undergraduate degree programs and two new graduate degrees. He also received the university's Delta Tau Faculty Award of Honor, presented by his colleagues.

His experience also includes one year as director of development and five years as dean of students at Vanguard University in California, and five years as dean of students at North Central University in Minnesota.
Dr. Flowers and his wife, Linda, have two children. Their son, Brett, is Director of Instrumental Music at Christian Heritage School in Connecticut. The Flowers' daughter, Lindsay, is pursuing a Doctorate of Music at Indiana University's Jacobs School of Music, while performing as an oboist and Citizen Musician Fellow in the Civic Orchestra of Chicago.
Bio
David accepted the call to become the ninth president of Bluefield College in July 2007. He is a native of Maryville, Tennessee, and the son of a retired Baptist minister. David received his Bachelor of Science degree in business management at Tennessee Technological University, his Doctor of Jurisprudence from The University of Tennessee College of Law, and his Master of Divinity at The Southern Baptist Theological Seminary. Kathryn and David have been married 24 years and are proud parents of Kayla, a junior in college, and Will, a sophomore in high school. He chairs the Council of Independent Colleges of Virginia, is chair and president of the International Association of Baptist Colleges & Universities, is on the executive committees for the Virginia College Fund, and the Appalachian College Association, and is on the board of directors for the Mid-South Conference and the Appalachian Athletic Conference. David is also a member of the Rotary Club of Bluefield, West Virginia, and participates as a member of the Jenzabar President's Advisory Council.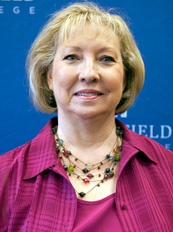 Bio
Diane came to Bluefield College on September 22, 1999 as the Office Manager in the Office of Institutional Advancement. In April of 2000, she began her current position as the President's assistant. Diane graduated from South Charleston (WV) High School and holds both bachelor's and master's degrees in Home Economics Education from Marshall University. She was a secondary school teacher prior to the birth of her children. Diane is married to James "Smokey" Shott and they have two children: Ryan and Katherine. Ryan is in the U.S. Air Force, stationed in Florida. Katherine resides in Mooresville, North Carolina. Diane also has two step-daughters and six step-grandchildren. She is an active member of First United Methodist Church in Bluefield, Virginia, where she sings in the choir, plays hand bells, and serves on various committees.
All Content ©2017 Bluefield College / Powered by
Ekklesia360