Jason Elswick Scholarship Challenge
A note from the coordinator:
The 5th Annual Jason Elswick Scholarship Challenge promotions are underway! Last year's race was a great success with over 82 participants. We hope to increase our numbers by having over 100 runners/walkers this year! I speak for the Elswick family in that your support brings a heartfelt thank you in keeping Jason's hopes and dreams alive for others. We'll see you September 15, 2012!
- Joshua Cline
Race Coordinator
276.326.4208
2012 Race Information
Starting Location:
Bluefield College Golden Dome
Date and Time:
Race date: September 15, 2012
Registration opens at 7:30 a.m. and closes at 8:25 a.m. sharp
Race begins promptly at 8:30 a.m.
Cost:
Before August 31 - $20
After August 31 - $25
No refunds will be given
All pre-registered participants will receive a ticket to the Feast After the Race and Football game with their pre-registration packet. Additional tickets for family and friends must be purchased.
The Course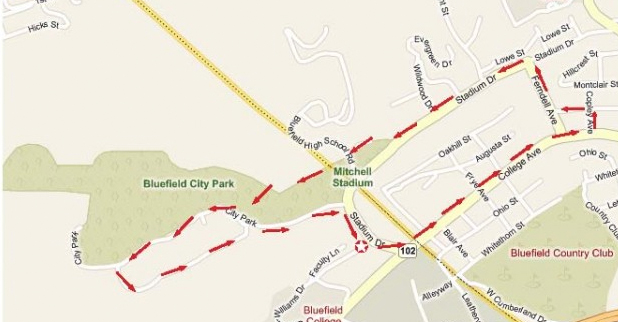 The course will begin at the Bluefield College Dome. Runners will then take a route up College Avenue, they will then cut left onto Copley Avenue and then turn right onto Ferndell Avenue. From Ferndell Avenue runners will run down Stadium Drive, by the city tennis courts, around Bowen field, and through city park. Runners will finish at the starting line at the Bluefield College Dome.
Pre-registered runners are guarenteed a t-shirt, ticket to the Feast After the Race, and a ticket to the Bluefield College vs. Faulkner College football game! Feast After the Race will be provided by local favorite, Blackburn's BBQ, this year!
Awards will be given to the top three overall male and female runners.
Awards will be presented to the top three male and female walkers.
Medals will be presented to the top three male and female runners for each category.
Categories are as follows
14 and under
15-19
20-24
25-29
30-34
35-39
40-44
45-49
50-54
55-59
60-64
65 and older
For information please contact
Joshua Cline, Race Coordinator
(276) 326-4208
Waiver
In consideration of the acceptance of this entry, I hereby for myself, my heirs, executors, administrators and assigns, and anyone entitled to act on my behalf, release and discharge Jason Elswick Scholarship Challenge, BLUEFIELD COLLEGE, THE TOWN OF BLUEFIELD, VIRGINIA or CITY OF BLUEFIELD, WEST VIRGINIA, plus sponsors, their representatives and successors, promoters, managers, directors, officials, agents, employees and volunteers, from any and all claims of injury, or liabilities of any kind, illness or damages suffered by me, or form the participation of the minor for whom I am signing for, as a result of participating in, or traveling to this event. I know that running a road race is a potentially hazardous activity. I should not enter and run unless I am medically able and properly trained. I agree to abide by any decision of a race official relative to my ability to safely complete the run. I assume all risks associated with running this event, including, but not limited to, falls, contact with other participants, the effects of the weather (including high hear or humidity), traffic and the conditions of the road, all such risks being known and appreciated by me. I realize that this is a strenuous event which requires proper physical conditions. I hereby certify that I am in such physical condition and good health. I also give my permission for the free use of my name and picture in any written account, broadcast or telecast of this event for any legitimate purpose.
Jason's Story and the 5K History:
Jason grew up in Tazewell, Virginia. His parents are David and Pam Elswick. Jason came to Bluefield College with goals of obtaining a bachelor's degree and a teaching licensure to be able to teach math as a public school teacher. Jason's goals were never lived out as he was tragically killed in a car wreck.
Left with a void in their hearts, David and Pam were searching for a way to keep Jason's loving and giving spirit alive. The best way they found to do so was to establish a scholarship in their son's name. They seek to help other students that share Jason's goals in finishing their college education, in order to make a difference in the world they will enter.
To raise funds for this scholarship, a 5K walk/run was established to occur in the fall of each year. The first race was held in September 2008. Over 30 runners showed up for the first race. This year we are continuing the tradition with anticipations to see this event continue to grow in runners.
This scholarship has had four recipients since its beginning:
Nikki Alley of Tazewell, Virginia - 2008
Brittney Gillespie of Tazewell, Virginia - 2009
Tracy Muncy of Tazewell, Virginia - 2010
Leah Elswick of Tazewell, Virginia - 2011
Kyle Sheets of Tazewell, Virginia - 2012
All Content ©2013 Bluefield College / Powered by
Ekklesia360