Wilson Named Mid-South Conference Men's Basketball Player of the Week
Bluefield College sophomore Andrew Wilson is the Mid-South Conference Men's Basketball Player of the Week, conference officials announced on Monday.
Rudy Roediger
December 10, 2012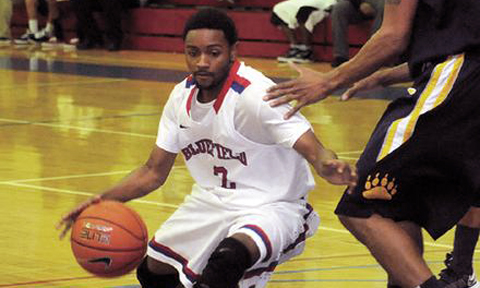 BLUEFIELD, Va. -- Bluefield College sophomore Andrew Wilson is the Mid-South Conference Men's Basketball Player of the Week, conference officials announced on Monday.
The conference weekly award is Wilson's first of the season and of his career and the first for a Bluefield men's basketball player since joining the conference over the summer. Wilson earned the NCCAA Men's Basketball Player of the Week honor for the week of Nov. 17 when he averaged 25 points, 5.5 assists, 3.0 steals, and 3.0 rebounds per game in a pair of Rams Mid-South Conference victories including a 96-89 victory over then third-ranked Georgetown (Ky.).
Wilson led the Rams to a pair of wins last week while averaging 18.5 points, 10 assists and seven steals per game.
The Cucamonga, Calif., guard scored 27 points and dished out five assists as the Rams dismantled West Virginia-Parkersburg 103-78. He made 10 of his 15 shots in the game, including a season-high seven 3-pointers in the win.
Wilson completed his week with a triple-double in a 92-73 win over West Virginia Tech. He finished the win with 10 points, 15 assists and 12 steals as the Rams knocked off a team receiving votes in the national poll.

Wilson's 12 steals are tied for second-most in NAIA history in a single game.
The 15 assists and 12 steals are both season and career-highs for the 5-foot-7 guard.
For the week, Wilson shot 53.8 percent (14-of-26) from the field, including 9-for-17 (52.9 percent) from beyond the 3-point arc. He also averaged three rebounds per game.
Wilson leads the Mid-South and ranks seventh in the NAIA averaging 2.9 steals per contest. He is averaging 16.7 points per game and 4.8 assists per game -- which ranks fourth in the conference and 22nd in the NAIA.
Bluefield is 6-5 overall this season and 2-2 in the Mid-South, they return to action in the midst of a two-game winning streak on Saturday as they take part in the 1st Annual VUL/Centra Hill City Classic against Virginia University of Lynchburg with a 6 p.m. tip. The Rams fell, 80-74, in the season opener against the Dragons on Nov. 3 at the Dome.
The next MSC men's basketball player of the week award is scheduled to be announced on Monday, Dec. 17.
NOTES FROM THE RIDGE….

TRIPLES: Andrew Wilson recorded the first triple-double in Bluefield College men's basketball history since Jan. 31, 2006 when Cedric Brown recorded one with 20 points, 15 rebounds, and 10 blocks, in the Rams 90-71 victory over Milligan.
OLD FASHIONED TRIPLES: Bluefield College ranks 13th in 3-point field goal percent defense (.291). Offensively the Rams rank 17th in 3-pointers made (88) and 18th in 3-point field goal percentage (.383) led by Kearsten Marion with 3.27 per game and Andrew Wilson's 3.00 per game. Marion a native of Houston, Texas leads the Rams with his .439 percent from beyond the 3-point arc, good for 38th in the NAIA.
ONLY TRIPLE: Thirty double-doubles have been recorded by Mid-South Conference players this season led by Shawnee State's Tyler Morgan's five double-doubles. Senior center Byron Carpenter who recorded finished fifth in the NAIA Division II last season with 14 double-doubles is the only Ram to record multiple (2) double-doubles this season. Andrew Wilson is the only player in the Mid-South to record a triple-double this season and one of just three players in the NAIA Division I to record one this season. West Virginia Tech's David Rawlinson recorded a 12 rebound, 16 assist and 25 point performance against Mid-South Conference foe UVA-Wise on Nov. 5 while Belhaven's (Miss.) Jordan Butts recorded 10 rebounds, 11 assists and 15 points against LSU Shreveport (La.) on Nov. 6

WILSON FILE: Andrew Wilson is in the midst of his best season as a Ram, averaging career-highs in points (16.5), steals (2.9), assists (4.8), and 3-point field goal percentage (.388) while recording game highs in points (29), 3-pointers made (7), field goals made (10), assists (15), and steals (12). For his career he has played in 46 contests and averaged 15 points, 3.9 assists, 2.9 rebounds, and 1.7 steals per game.
AWARDS: Andrew Wilson (Men's Basketball) joins an illustrious list of Bluefield College student-athletes that includes Tequila McNeal (Women's Basketball), Pip Pattison (Women's Soccer), Erik Albarran (Men's Soccer), and Jasmine Morrow (Volleyball) who've all earned player of the week honors in the NCCAA and/or Mid-South Conference this year. Erik Albarran was the only student-athlete to sweep the Mid-South and NCCAA honors in the same week when the Houston, Texas, freshman midfielder collected both honors for the week of October 15, 2012 as he recorded his first career hat-trick in a come-from-behind 6-4 win over University of Pikeville to begin the week then recorded the lone goal in the Rams' 1-0 win over St. Catharine to run the Bluefield winning streak to three straight matches.
All Content ©2013 Bluefield College / Powered by
Ekklesia360