Vocatio program enriches education
Vocatio is a new program introduced last semester to Bluefield College students that requires attendance at five extra campus events in addition to Wednesday morning chapel.
Dreena Bivona
February 8, 2013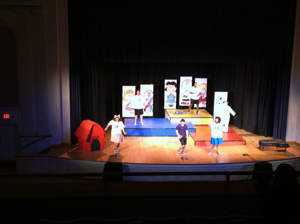 Vocatio is a new program introduced last semester to Bluefield College students that requires attendance at five extra campus events in addition to Wednesday morning chapel.
As with anything new and different, negative feelings may have come up toward Vocatio because of the extra requirements that students have to meet. However, this program wasn't designed to burden students. It was designed to help them further their education beyond everyday classroom experiences.
Previously, students have been required to attend chapel on Wednesday mornings 10 times a semester. Now, they are also required to go to Vocatio events. Because this program is so new, students only need to go to five Vocatio events for the 2012-2013 school year. Beginning next year, they will be required to attend five Vocatio events per semester until graduation.
So what is Vocatio? At the beginning of the 2012 fall semester students were sent emails concerning Vocatio. The first email sent was from Robert Shippey, vice president for academic affairs. In the email, Shippey stated that this program is "designed to engage students in reflection and to make them uncomfortable in their preconceived notions of truth."
"We want students to be enriched in a way they haven't received in previous education," Shippey said in a recent interview.
He explained that this program was designed for faculty to show students a more personal side of them that students aren't able to see in a classroom setting. This program gives students a chance to get to know their teachers. It also gives teachers a chance to show students things that will benefit them outside of the classroom.
In order to meet the requirements for Vocatio, students need to know what they can attend for credit. Many teachers and students send information through email for events that happen on campus that will fulfill requirements. There is also a list that is updated regularly on MyBC that allows students to see where and when these events are. Exciting events that qualify include each Tuesday's Noon Day Prayers and the Bluefield College production of You're a Good Man, Charlie Brown.
Lastly, students may be wondering where they can find this list and more information. It's as simple as logging onto MyBC and selecting the Student Life button under the Student tab. There you can check to see what your current chapel attendance is as well as your total attendance for every semester. There is also a bar on the side that allows you to see what events you may attend to reach your required attendance for Vocatio.
In addition, anyone can view upcoming Vocatio events by going to BC's website and clicking on the Student Life tab at the far right, then clicking on Campus Ministries on the left, and then clicking on Convocation. Another click on the red box that states "View Upcoming Academic Convocations" will open up a schedule of events that qualify for Vocatio credits.
Currently, you cannot check your Vocatio attendance on MyBC, though the IT department plans to revise the MyBC website so that students know how many requirements they've met and how many they still need to attend.
"I think the Vocatio program is an excellent way for us students to have the cultural stimulation that we often wouldn't have," said Hannah Winter, a freshman elementary education major. "I honestly look forward to Vocatio events. I wish they would send an email on how to check it."
Don't worry though, because President David Olive's office is keeping track of your attendance and you will receive credit. Also, any extra credit you receive will carry over to future semesters.
As Shippey stressed, it is very important that students attend Vocatio events--not just to receive credit, but to further their education and broaden their view on the world. Attending allows teachers to reach out to students. It also allows students to inform other students on important things that are happening in the world. When going to these events, view them as an opportunity to expand your mind and develop new ideas. That is why this program was created.
All Content ©2013 Bluefield College / Powered by
Ekklesia360