Reactions to BC's New Football Team
BC students give their opinions on Bluefield's new football team.
Trey Wilson
September 20, 2011
After a 70-year absence, the Bluefield College community welcomed the new football team to campus to start the fall semester.
"Overall everybody seems excited about it," said Devonte Jackson, a freshman defensive end from Gloucester, Va. " The way this area is, everybody supports football and all of the sports, so it will be good."
Many students are excited about the opportunity to enjoy cheering on the new team.
"It's so exciting,"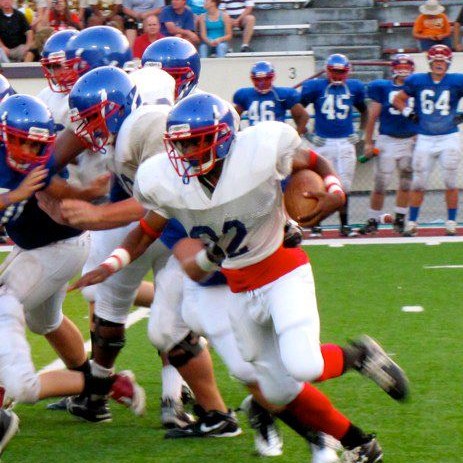 Deontray Blackson participates in one of BC's scrimages
sophomore Alli Spraker said. "I love football anyway, so I'm a little bit biased. I think all schools should have football. Football is a sport that pretty much everyone loves so people are going to come out and support it."
Sophomore Dawnn Fletcher said brining in a football program brings in new types of people from new places.
"I like the idea of having a football team," said Fletcher. "I think it's a really good addition to the school because they bring more diversity and different majors from different areas. They are really close and pretty much really nice."
Not only has football sparked excitement within the Bluefield College family, but members of the local community have also been taking an interest in the program.
"When I see people in restaurants and out on the town, they're asking me how things are going, wishing us luck and talking about coming to a game," head football coach Mike Gravier said. "I think the enthusiasm has really been fantastic."
Not all of the reaction has been positive. Some students are worried about overcrowded dorms and what they say are stereotypical behavioral problems associated with football players.
"The stereotype of football players is going to be a problem," said Fletcher. "Some of them are living up to the stereotype. Some people were a little bit bitter because they think there are too many people here already and they are just going to be in the way."
Spraker said she has heard the same sentiments from other students, but she warned against judging members of the team based on how people say football players typically behave.
"Some people are frowning upon the stereotypical personality of football players," said Spraker. "But they're people and they aren't all going to be like that."
Jackson wants to remind the campus community that the football players are also here as students, and he does not think members of the team should be looked at any differently.
"We're students just like them," said Jackson. "We are here to represent the school on and off the campus. We're going to act just like everybody else. We are going to show everyone respect. This is a Christian school, and no one's perfect, but we aren't going to do anything out of the ordinary to bring any negative attention."
Like many new students, members of the football team are making the adjustment to college life and being a part of a small-campus environment.
"It's way different from back home," said Wesley Washington, a linebacker from Stone Mountain, Ga., outside of Atlanta. "It's a really small campus. It's really quiet compared to what I thought college was going to be."
"The people are nice," said Jackson. "The campus life is pretty good and everybody is pretty nice. The way everything's structured makes it an easy way to stay out of trouble."
Jackson, who said that before an injury he had football offers from NCAA Division I schools Old Dominion, Norfolk State, and Duke, came to Bluefield because he knows he will be a part of something special.
"Everybody is asking me why I came to Bluefield instead of ODU or something else my way like Norfolk State," said Jackson. "Basically, no matter what happens, negative or positive, you're going to be a part of history here. Whether it's the first sack or the first interception, you're going to be known as the first person to do it. Of course, you don't want to be known for anything negative, but no matter what happens, we're going to be the first ones to do it."
"I think it's a pretty big honor," said offensive lineman John Bergner, who transferred to Bluefield from NCAA Division I Campbell University. "Coach Gravier is sending us in a pretty good direction. I think we'll make everyone pretty proud."
Members of the team understand that a new football program brings new attention to the college.
"I feel like we're representing Bluefield," said Washington. "All eyes are on us. I think it's a great feeling because everybody's going to expect a lot of us as the first team in 60 or 70 years. We've just got to go out and win because everybody's going to be watching us."
Offensive lineman Hugh Frazier has experience being part of a first-year program. He was a part of the first football team at West Creek High School in Clarksville, Tenn.
"We had just opened a new high school," said Frazier. "In our second year we went to the playoffs and I believe we can do the same thing here because we have the talent. I believe we are going to create history at Bluefield."
The opportunity to play football at the college level is something that players are not taking lightly.
"A lot of people don't get to play at the next level in any division so I'm happy for the opportunity that I've got here," said Jackson.
Frazier also understands that a small percentage of athletes get the chance he has.
"It's a blessing," said Frazier. "Many people don't get this opportunity. I just thank God for it."
For the 2011 season, all players will be under a redshirt status. According to NAIA rules, student-athletes are allowed five years to complete four years of athletic competition. To comply with these restrictions, all of the games Bluefield competes in this year will be considered scrimmages before going to full intercollegiate competition in 2012.
Having a full year to practice provides an opportunity for the players to settle into college life and make the adjustment to being on a college football team.
"The biggest thing is having these guys learn how to be college football players," said Gravier. "We've got so many kids right out of high school and they don't understand what we're going to demand as college coaches."
Prior to the start of the semester, the players attended a weeklong training camp at the practice facility at the former location of Pocahontas High School. They slept in the gymnasium each night and spent the days attending meetings, practices, and meals.
"Being isolated at Pocahontas, we were able to focus on things really as much as we wanted to," said Gravier. "Guys talked about [how] having to sleep in one room in the gymnasium helped them get to know each other as a team and kind of bond a little bit quicker than if they would have if they were in their dorm room every night.
"A couple guys even mentioned being able to focus just on football. That's all we did. I think from that standpoint, it helped us a great deal and allowed us to probably progress a little bit faster than if we had been on campus."
With no cell phones and nothing that was not related to football, the camp met some negative responses from members of the team. However, the players understood the positives that they took from the experience.
"Pocahontas itself was obviously terrible," said Bergner. "But I think it was a pretty good idea because we were away from everything and we could just focus on football and get to know the guys. It was pretty beneficial for our football team."
Jackson missed camp, but after hearing stories from his teammates, he was glad he did.
"I didn't even report to training camp because I was still recovering from knee surgery," said Jackson. "They said I was lucky I came in late because sleeping at Pocahontas will change your life. It's creepy down there."
The players are realizing the benefits of having a first-year program filled with mostly freshmen.
"With everybody coming in starting off at the same level, getting better together and learning together, we are all hungry and coming in with the same mentality to get better and work as a team," said Jackson. "I feel like everybody being freshmen can only make us better."
Washington said having a team made entirely of freshmen fuels a higher level of competition for playing time.
"I feel like we have a great opportunity because we're all freshmen and we all learn from each other," said Washington. "Basically, since we're all freshmen everybody's going to be competing for a spot. It's high competition."
Even in the few weeks that the football players have been on campus, the coaching staff is starting to see progress.
"We want to see our guys develop, and we've seen that so far," said Gravier. "We understand that guys are going to develop at a different rate than others. We've kind of inserted everything. Now we'll slow it down a little bit and allow them to kind of grow into their position. We've got some guys that are moving around and trying at different positions as well so they can find their niche in the program."
The first inter-squad scrimmage game was Aug. 20 at Mitchell Stadium. Even though no statistics were kept and returning students had not yet moved in, several hundred people came out to get their first taste of Bluefield College football.
"I was mildly shocked at how many people were at our first scrimmage," said Gravier. "It wasn't all just parents and it wasn't just board members and those types of people. [It was] people from the community. They were curious about what we are doing and they're interested."
Members of the team are excited to play in Mitchell Stadium, which has a capacity of more than 10,000.
"Mitchell Stadium can get live," said Jackson. "If you fill it up, it's going to get real serious, especially since everybody in the town supports the football team. Get it full. You wouldn't think that they would have a facility that nice here. I didn't know until I came on my visit. It looks good."
Several scrimmages with other teams have been scheduled throughout the season, including matchups with Guilford, West Virginia Tech, and Emory & Henry.
Homecoming will take place during the Oct. 15 inter-squad scrimmage at Mitchell Stadium.
All Content ©2013 Bluefield College / Powered by
Ekklesia360