Rams Volunteer at Local Elementary School
The Bluefield College Rams volunteer at local Princeton Elementary School
Sports Information Department BC
April 28, 2011
Bluefield. Virginia
Bluefield College
Sports Information Department
We don't know who had more fun, the kids at the local Princeton, WV elementary (Mercer Elementary) or some of the Bluefield College Rams' athletes. One thing was for certain: the packed out elementary gynasium at Mercer Elementary was louder than it has been in a very long time.
BC Athletes and children enjoying the afternoon
Several of the Rams athletic teams joined the Mercer Elemenatary staff in assisting with the school's annual "Jump Rope for Heart" event, in association with the American Heart Association. Athletes and coaches from Women's Basketball, Women's Soccer and Men's Soccer all joined in to help in the fun-filled afternoon.
Each season, the Bluefield College Athletic Department and its athletes engage and invest their time into different aspects of the local community, both in Virgnia and West Virginia.
Not only is it important for the athletes to excel on the field and in the classroom, but also connecting with the younger generation. Programs such as "Jump Rope for Heart" are perfectly designed for an athletic program and teaching kids how to be healthy and active as they develop into adults.
Coach Baker congratulates elementary kids
BC's effect on the children was not only clear but refreshing. Director of the "Jump Rope for Heart", Aleta Jo Crotty, couldn't agree more, "I have conducted over 20 events for the American Heart Association and this one will be remembered as the best. Bluefield College brought enthusiasm to this event like I have never seen before. You all provided great role models for our students as you encouraged, helped with the organization, jumped, and cheered."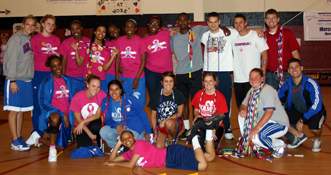 Rams Athletics posing together
The event provided the Mercer Elementary students the opportunity to learn more about healthy living, eating and exersising. Furthermore, contests ran throughout the day for the students who could jump-rope the longest continously without stopping. Even a few Bluefield College athletes tried to squeeze in their own workouts too.
Stay tuned to the Bluefield College Rams and its upcoming community events. If you are interested in bringing in a Rams' team, contact the Bluefield Athletic Deparment,
For more information, news, live scores, stats and more, follow the Bluefield College Rams via Twitter at@BluefieldRams or online at www.bcrams.com.
All Content ©2013 Bluefield College / Powered by
Ekklesia360