Night game to feature single-shot 'rivalry'
Bluefield (0-6, 0-2) will host UVa-Wise (1-5, 0-1) tonight in the Rams' first night game of the season at Mitchell Stadium. Kickoff is slated for 6 p.m.
Bluefield Daily Telegraph
October 6, 2012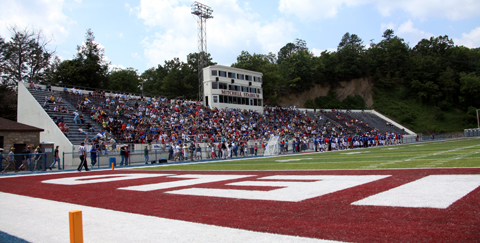 Mitchell Stadium will be under the lights on Saturday when the Rams host UVA-Wise
Original Content Provided by Brian Woodson of the Bluefield Daily Telegraph
BLUEFIELD — Every football team needs a rival. It appeared Bluefield College had one in place with the University of Virginia's College at Wise.
It will be a rival ... for one game.
UVa-Wise will be leaving the Mid-South Conference and moving to Division II and the Mountain East Conference next season with the defectors from the West Virginia Conference.
"This would be a great rival, with both teams in state and only a couple of hours apart," Bluefield head coach Mike Gravier said. "Unfortunately they are leaving, but that would have been fun."
Bluefield (0-6, 0-2) will host UVa-Wise (1-5, 0-1) tonight in the Rams' first night game of the season at Mitchell Stadium. Kickoff is slated for 6 p.m.
"We practice at night on Wednesday so they are used to being under the lights and honestly some of our better practices are on Wednesday night," Gravier said. "I don't know if it is the lights or it is cooler or what it is so that won't be new to us either."
Both teams come in struggling to get wins. The Rams dropped its sixth straight in 37-14 loss last week at Union, a 'frustrating' defeat for Gravier, whose club gave up 17 points on a pair of bad snaps on punts and a kick return for a touchdown.
Long snapper Keith Dunn (Graham) is out with an injury, leaving Gravier looking for answers from possibly Anthony Herring or Jonathan Hawthorne. Bland County product and wide receiver Dylan Kidd has been out with an injury, but is expected back tonight.
Other locals contributing for the Rams include receiver Joel Calfee (PikeView) and defensive lineman R.J. Buford (Bluefield).
"Keith was snapping real well, he was very consistent and doing a good job," said Gravier, who said long snaps have been an Achilles heel for the Rams this year.
The Cavaliers defeated then-No. 11 Bethel in the season opener 24-21, but have since lost five in a row, including last week's 52-14 loss to Belhaven. UVa-Wise was also soundly thrashed by Faulkner 43-10, but lost by seven points to Cumberland, Tenn., and 10-0 against NCAA FCS foe Campbell.
"They have given up some points, but they have given up some points to some pretty good teams...," Gravier said. "Obviously knocking off Bethel the first game of the year, it shows they can play good defense and offense."
UVa-Wise is coached by Dewey Lusk, a longtime presence in Southwest Virginia, who was a football assistant and baseball coach at Emory & Henry College, and is in his second season as head coach for the Cavaliers.
He has been known as an offensive guru, but UVa-Wise has been stuck on the ground. Freshman Connery Swift is ranked 15th in the nation with 474 yards rushing and is 35th with 79.0 yards per game.
"They heavily rely on their running game. Connery is a freshman running back that we went after very hard too, he is very talented," Gravier said. "He just has great vision and good speed. They are definitely a running team...
"They do throw the ball, but that hasn't been their strong point so they are going to rely on the running game. We thought the same thing against Bethel and the kid played out of his mind. We definitely have to prepare for both."
Tye Marshall has thrown for just 399 yards and no scores, with Ryan Bouldin leading the Cavs with 24 receptions for 248 yards. Paul Melshen has made three field goals for UVa-Wise, which is also 12th nationally with 79.8 penalty yards per game.
Leading Bluefield on defense is Anthony Rivers, who is seventh nationally with three interceptions, while Tarrell Starckey is 30th in tackles per game (9.8) and 36th in tackles for loss (7.0).
Bluefield will counter on offense with Greg Hampton, who has thrown for 780 yards, eight touchdowns and seven picks. Rodrell Smith leads the MSC with 28 receptions for 274 yards and four scores, while Josh Wells (338, 1 td) and Marion Harris (196, 2 td) are leaders on the ground.
Harris is first in the nation in kick return yards (508) and sixth in all-purpose yards (751).
"He has had some good returns that put us in good position, and he had a really good game last week," Gravier said. "He had our two touchdowns, one on a screen and one on a 16-yard run so he has got very good speed."
UVa-Wise is led on defense by A.J. Portee, who is eighth nationally with 5 1/2 sacks and 13th in tackles for loss with 9.0. Derek Comer is 23th with 10.2 tackles per game.
"We have to stop their running game, make them one-dimensional and offensively don't be our own worst enemy, we just have to play consistent and mistake-free," Gravier said. "We have proven if we do that we can move the ball pretty well, I don't want to jinx us, but I think we have scored every time we have been in the red zone."
Talk about bad luck. Gravier was hopeful of a large gathering from the community tonight, but not only are the Bluefield College students on fall break, but West Virginia playing Texas at the same time certainly won't help fill the seats.
"They may have a bigger crowd than we do," Gravier said. "Our students are on fall break so that will cut back on our student attendance.
"Wise typically travels well, plus they have got a lot of kids from eastern Virginia and so for those families is a closer game. I would assume a lot of those people are going to show up as well."
Even though a rivalry won't have time to develop with the Cavaliers on the gridiron, Gravier said the schools will still be rivals away from the field.
"We recruit some of the same kids," Gravier said. "They got some of them and we got some of them so we're familiar with each other's squads."
—Contact Brian Woodson at
All Content ©2013 Bluefield College / Powered by
Ekklesia360