Mid-South Men's Basketball Honors Announced
Bluefield College's Byron Carpenter earned the program's first All Mid-South first team honors after leading the conference in scoring this season.
Tim Hartin
March 1, 2013
The Mid-South Conference announced its 2012-13 men's basketball honors yesterday, including individual awards, All-Conference teams and Academic All Mid-South recognitions.
All-Conference teams were announced last evening at the conference's annual banquet, as teams readied for the conference tournament which tipped Friday morning.
Bluefield College's Byron Carpenter earned All Mid-South Conference first team honors – the first All MSC honoree for the program after its first year in the conference. Josh Fore received Academic All Mid-South recognition.
Conference coaches voted on the all-conference honors and were not allowed to vote for their own players. Student-athletes receiving academic honors must maintain a minimum grade points average of 3.25 on a 4.0 scale and must have achieved at least sophomore academic status.
Senior center Byron Carpenter averaged a career high 22.7 points per game this season, to lead the MSC in scoring and rank third in the nation in the category. The Virginia Beach, Va., native also pulled down 7.2 rebounds per game, ranking fifth in the MSC. Carpenter also ranked second in the MSC in field goal percentage (57.4 %) and third in blocks per game (1.26).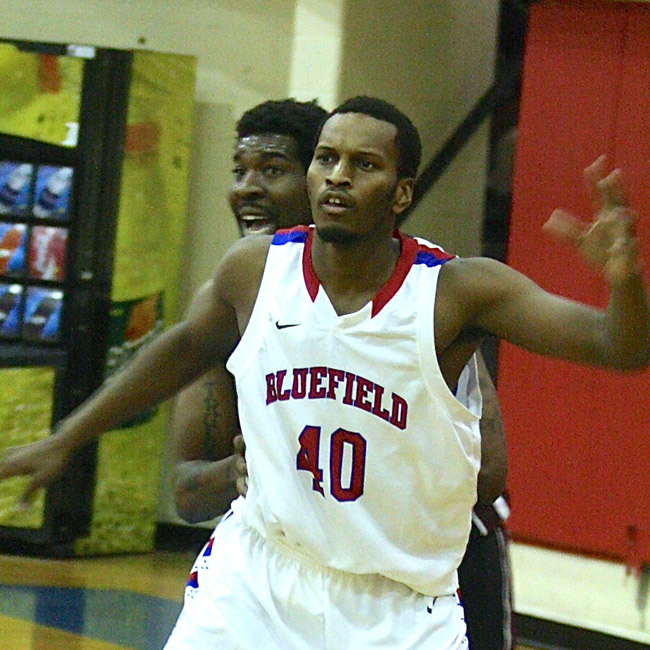 Carpenter concluded his three-year Bluefield career with 1,795 points, the second highest total in the program over the last decade. Curtis Dixon tallied 1,909 points, doing so in four seasons. The center is also the first Ram in the last decade to average more than 20 points in back-to-back seasons. Last year, Carpenter put up 21.4 points per game en route to the Appalachian Athletic Conference Player of the Year title and NAIA All-America honors.
Fore joined 21 additional academic honorees. Cumberland produced seven academic honorees – the most for one school. Fore logged minutes for the Rams in 13 games this season.
Pikeville senior guard Jamar Briscoe earned Player of the Year honors, while Rio Grande's D.D. Joiner took the MSC Freshman of the Year title. Lindsey Wilson's Paul Peck was named Mid-South Coach of the Year, rounding out the individual awards as voted on by the conference coaches.
Shawnee State's Tyler Boyles was named the Mid-South Conference's Champions of Character recipient. The conference athletics directors voted on this award, basing the honor on academic and athletic achievement, campus and community leadership, future ambition and a demonstration of five character values of the NAIA.
All Content ©2013 Bluefield College / Powered by
Ekklesia360