Many new faces on campus this spring
A record 30 transfer students started classes at BC this spring semester, according to college leadership.
Tori Doyle
February 28, 2013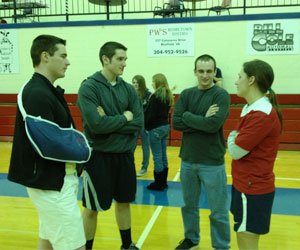 A record 30 transfer students started classes at BC this spring semester, according to college leadership.
Starting a new college halfway through the school year can be a challenge for some, and students experience it in their own way.
Among BC's 30 new faces this spring are Michael Doelle, Jerry Johnson, Michael Brown, and Lacie Helms—who is actually returning after a semester at another college.
Helms, from Christiansburg, Va., is a junior majoring in Interdisciplinary Studies. She is also a member of the Bluefield College women's soccer team. Helms attended Bluefield College 2011-2012 before transferring to Carson-Newman College in Jefferson City, Tenn. for Fall 2012. She then made the decision to return.
"I really missed the Christian atmosphere of Bluefield College," Helms said.
Things have been different for Helms since returning. Not living on campus, seeing new faces, and using new athletics facilities, she admits it has been great so far.
"I don't live on campus anymore, so it has been different while adjusting to that," Helms said. "Everything seems to be just as good as or maybe even better than last year. There are a lot of new faces."
While returning to Bluefield College has been fairly easy for Helms, those who had not attended before have faced a bigger change. Doelle, Johnson, and Brown have become friends during their adjustment.
These three didn't know one another or anyone when they first cam in January, but they have adjusted well and made a great friendship with each other.
Doelle, from Williamsburg, Va., came in as a sophomore majoring in business. He previously attended Thomas Nelson Community College before realizing that he wanted to get the full college experience.
"I wanted to go off to college and get that experience, and this was that place," Doelle said.
Although it's been a change, Doelle says he really likes the people. But he also confesses there are a few things he dislikes.
"I don't like the food in particular," Doelle said. "I also don't like that there isn't a gym on campus."
Johnson, also a sophomore, is from Chesapeake, Va., and majoring in Christian studies. His reason for coming to Bluefield College was about his academic major and his intent to do well with his studies.
"So I focus a lot of time on my major," he said.
So far, his experience with Bluefield College is about the same as Doelle's. He likes the professors so far, but he dislikes the food and agrees with Doelle that there could be more food options.
Brown, from Williamsburg, Va., is a freshman majoring in pre-med. Last semester he was waiting on a medical waiver for the Marine Corps, but he got turned down.
"So I came to Bluefield to play football," Brown said.
Like his two friends, Brown also has similar likes and dislikes so far with his experience here at Bluefield College.
"I like the faculty and staff and the other students here on campus," Brown said. "But I don't like the lack of quality here."
All Content ©2013 Bluefield College / Powered by
Ekklesia360