Madrid gets into swing of BC
Spaniard student Ignacio Madrid's road to greatness in golf has been difficult but yet very fun over the years.
Ben Rife
February 8, 2013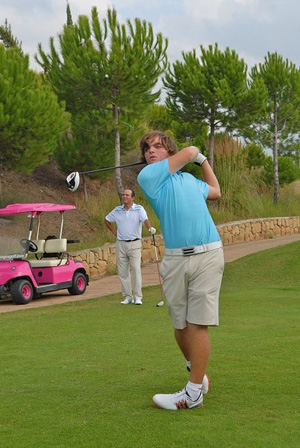 Spaniard student Ignacio Madrid's road to greatness in golf has been difficult but yet very fun over the years.
Better known as "Nacho"around campus, Madrid is majoring in Business-Management. Many people probably wonder why Madrid came to Bluefield College. There were many reasons.
"I wanted to come to Bluefield because I wanted to improve my golf game and improve my education,"he said. "I also want to help improve my English because I know that it is very important to know as many languages as I can. I thought coming here was the best opportunity because English would be my only option to speak, so it would have to improve."
The game of golf came in an unusual way for Madrid. When he was only two, both of his older sisters were already always playing the game. However, he wasn't able to play because all the instructors told him he was too young to participate with older golfers. But this didn't stop him from trying.
"It was frustrating at that age not being able to play with everyone else," he said. "So one day I started to hit golf balls by myself. Everyone was amazed with the way I hit the ball. I was hitting the ball just as far as everyone else. All the instructors were very surprised and pleased so they let me finally be included with everyone else."
Madrid continued to play the game of golf till age eight. Then he took a seven-year break and didn't return to golf until age fifteen. Once he returned to playing, he could only do so during summers because school got in the way.
"It was very hard for my golf game to stay consistent," he said. "The hardest part was taking up to nine months off at a time for school, and then coming back into the swing of things was very difficult."
Madrid credits his family with influencing his game.
"My mother and father used to play golf every day and I went with them every day," he said. "That is the reason I like golf today. Also, I have a personal coach back in Spain that has helped me a lot to improve my swing and has taught me nearly everything I know about golf. He has been very important to my success because without him, I could not have the swing that I have right now."
During Madrid's senior year of high school, he realized he had a future in golf. He had many college offers to play, but staying in Spain to play golf and pursue his education would be an almost impossible task, he said, because of the work load at most Spanish universities.
After high school, Madrid decided he was coming to the states to play golf. He waited one year to make a decision after he graduated to improve his English and also his golf game.
"My English wasn't bad at the time, but I knew I needed to improve my language before I can be successful at college here in the states," he said.
Madrid said he chose Bluefield College because it was his best option for everything: an education, a small school, a golf team, and overall the best scholarship offered.
"When Bluefield first contacted me, I decided to come here because they provided the best offer through scholarship," he said. "Also, the climate was much better than any of my other options. Bluefield being a small college really helped my decision. It wouldn't feel the same being a large university. I knew here at Bluefield I would receive more help with all of my studies."
Madrid is optimistic about golf this spring.
"My expectations coming into this year is to improve my game, try to score better than I scored last semester, try to qualify for the National Tournament, and just enjoy my time here in the states," he said.
Madrid added that he is feeling more comfortable everyday about his swing.
"After taking a few days to relax in Spain during Christmas break, I have practiced nearly every day since," he said. "I feel more comfortable every day and let's hope the swing just doesn't escape from me during the tournaments, like last season."
Bluefield's golf schedule isn't out yet but Madrid is working as if the first tournament is tomorrow.
"I'm very excited about the golf season for this semester," he said. " I really enjoyed the first season and now I'm really anxious to begin the next one. Let's hope we can improve our scores from last season. Not just my scores but also the team's scores. "
Madrid's future plans for golf are to one day be a professional golfer.
"I don't want to think about making any important tours," he said. "I am already pressured enough. If I get lucky and I can make any of the important tours, I will take it!"
All Content ©2013 Bluefield College / Powered by
Ekklesia360