Lady Rams Face Rubber Match with Georgetown in MSC Tournament
After disproving many in making the MSC Tournament, the Lady Rams look to make some noise this weekend.
Tim Hartin
February 27, 2013
2012-13 MSC Women's Basketball Tournament Page
The Bluefield College women's basketball team proved a lot of people wrong this year, as it completed its first season as a member of the Mid-South Conference. In the preseason poll, the newcomers were voted to finish 11th, or last in the conference. However, this week, the Lady Rams make the trek to Frankfort, Ky., having earned the No. 7 seed in the MSC Women's Basketball Championship.
"Our team has shown tremendous toughness and heart this year," remarked head women's basketball coach Melissa Baker. "When faced with adversity we fight with all of our might. We contribute our success this season to the mentality of never giving up and believing in ourselves and each other."
Bluefield will open the tournament by facing No. 2 seed Georgetown, who currently ranks 16th in the NAIA national poll. Tip is scheduled for 6 p.m. (EST), on Thursday evening.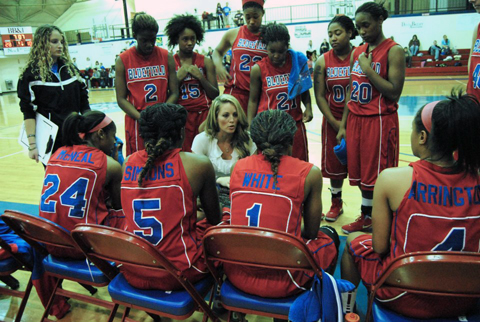 "Georgetown is a great team that can really shoot the ball," stated Baker. To be successful Thursday, we will have to contest all shots and box out. Both teams match up well."
The programs split their regular-season meetings, with each team claiming victory on their home court.
In their first-ever MSC game (Nov. 15), the Lady Rams knocked off then No. 6 ranked Georgetown, 83-73, at the Dome Gymnasium. Bluefield's guard tandem of Teqa McNeal and Ashley White led the way, scoring 32 and 26 points, respectively. Janee Simmons also contributed a big game, scoring 13 points and grabbing 12 rebounds.
In their latest meeting (Feb. 16), Georgetown held its home court by taking an 84-72 decision over the Lady Rams. Five Tigers scored in double-digits, led by Andrea Howard (20) and Devanny King (19), neither of which played in the teams' first meeting. Georgetown heavily exploited BC inside, outrebounding the Lady Rams by a 51-32 margin.
Georgetown takes a five-game winning streak into the tournament, while Bluefield has dropped three of its last five contests – with two of those coming against nationally ranked foes.
As the Lady Rams enter Thursday's contest, Coach Baker has encouraged them to stay determined. "We have been stressing that this tournament is a new season and anything is possible. We want to leave the court with no regrets."
Should Bluefield take the rubber match with Georgetown, they would face the winner of Campbellsville University and University of the Cumberlands at 4 p.m., Saturday.
The tournament then culminates on Sunday, with the women's game starting at 2:30 p.m.
All Content ©2013 Bluefield College / Powered by
Ekklesia360