BC Students cope with winter weather
In the past two months, Bluefield has been hit with up to a foot of snow at a time. Most students are adjusting to the weather, but some aren't.
February 21, 2013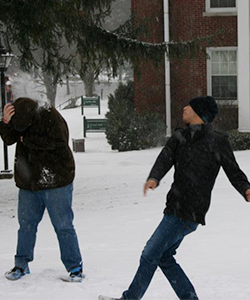 In the past two months, Bluefield has been hit with up to a foot of snow at a time. Most students are adjusting to the weather, but some aren't.
Ignacio Madrid is from Marbella, Spain, and is used to 70-degree weather November through February, so for him this weather is quite an adjustment.
"Growing up, I was always used to wearing shorts and short sleeves during the winter," Madrid said. "This weather is just confusing me. I have to wear jackets, hoodies, sweat pants, jeans, and long sleeves, just anything that will keep me relatively warm. My family and I had to buy so many warm clothes before I moved in here. It's been a major adjustment."
The snow hasn't affected some people, such as Nick Exposito, a freshman from Woodbridge, Va., who said he has seen plenty of snow in his lifetime.
"Coming here and seeing snow isn't that big of a deal to me," Exposito said. "Growing up in northern Virginia, I have seen plenty of snow and adjusting to it hasn't been a problem. I still wear all of the same clothes that I wore in high school. The only difference is basically the temperature always is cold it seems. Back home it would warm up occasionally during the winter, but not here in Bluefield."
Throughout this winter, students have always found a way to stay warm, thanks to the dorms. Many students, such as Jordan Owens, say the dorms are sometimes too warm.
"I have seen plenty of snow in my day but this winter has been insane," Owens said. "However, staying warm isn't the issue. I have tons of outfits to keep me warm but being inside the dorms, I have to put them away and sometimes put back on shorts. It seems like it's too hot in there sometimes. I understand we have to keep heat turned on for everyone, but many times I wake up sweating throughout the night."
Justin Lykins, a senior at Bluefield College, is experiencing some of the most snow he has ever seen. Although he's is a senior, this is only his second year here in Bluefield. Lykins says it doesn't matter what he wears to stay warm through this brutal winter.
"This winter has just thrown me for a loop," Lykins said. "I am from southern North Carolina so snow isn't a common thing that happens for me. But when snow comes, I bundle up to the maximum. I have had times this semester where I wear two to three hoodies at a time. Also, I wear two sweat pants as well. Another thing that is interesting that I do, is for the past two winters I have grown a beard as long as I possibly can. I honestly don't care what people think of my looks, I just have to stay warm. I don't like this winter junk."
While Lykins goes to the extreme to get warm, this cold weather doesn't faze some people like Jordan Prater.
"The cold weather doesn't bother me one bit," Prater said. "I was raised in Hurley, Va., so I have seen plenty of snow growing up. My parents always had me working every winter whether it was working on cars, shoveling snow, or putting salt down for my driveway. Winter isn't my favorite season by any means, but it really doesn't bother me. Sometimes I go to class in shorts just for the heck of it. I do it to show people I'm not a baby and don't need to be wearing so much clothing to stay warm. I think staying warm is a lot mental too. Thankfully I was raised to be out in it a lot so now I am used to it."
All Content ©2013 Bluefield College / Powered by
Ekklesia360