BC Baseball
Check out how BC's Rams are doing during the 2011 baseball season.
Trey Wilson
April 9, 2011
At the midpoint of the 2011 Bluefield College baseball season, the Rams are 12-20 (3-8 AAC).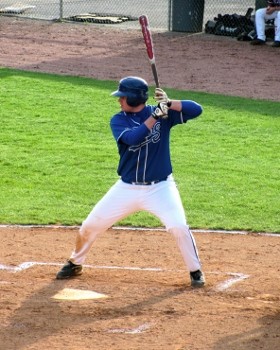 BC baseball player, Cameron Hynes, at bat.
After winning 41 games in 2010, the Rams have had a slow start this season. After losing several key players from the 2009 NCCAA national championship team and the 2010 squad that finished second in the NCCAA Tournament, the team has had to rebuild not only the roster, but also its chemistry.
"The past two years we have had familiarity," said David Gibson, a sophomore pitcher from Williamsburg, Va. "We lost key players from the team that we won a national championship with. There are a lot of connections there. With a bunch of new guys and a few old guys, I feel like team chemistry was not the greatest at first, and it took a while to learn how to play together and play off of one another."
Even with a rough start, the team is getting stronger. The Rams have won three of their last four games, with the lone exception being a game against Reinhardt College that has been suspended due to rain and will be completed in the coming weeks.
"We are playing pretty good right now," said Gibson. "We are clicking as a team, which is scary to see."
The Rams are loaded with talented players. Gibson is having an outstanding season. Through 48 innings pitched, he has an ERA of 3.00 with 46 strikeouts.
Senior pitcher Adam Hoyt is also having a great season. With 55.2 innings pitched, Hoyt has a 2.43 ERA. His 65 strikeouts are eleventh best in all of NAIA Division 1. Junior outfielder Joe Gatewood is leading the team with a .354 batting average
As the team continues to get stronger and progress through the season, Gibson is expecting a strong finish.
"We want to finish at .500," said Gibson. "We kind of dug ourselves a little hole, but I feel like we are going to step up and finish .500, and come conference tournament time, the Bluefield Rams are going to be a scary team to play."
All Content ©2013 Bluefield College / Powered by
Ekklesia360