Baker Hired as New Women's Basketball Coach
The Bluefield College Athletics Department is proud to announce the hiring of the new head women's basketball coach, Melissa Baker.
Sports Information Department BC
April 26, 2011
Bluefield, Virginia
Bluefield College Rams
Sports Information Department
The Bluefield College Athletics Department is proud to announce the hiring of the new head women's basketball coach, Melissa Baker.
Baker enters her first season at Bluefield after having spent the past two seasons as Head Coach at Spartanburg Methodist College in South Carolina after a tremendous 2010 campaign in the palmetto state. She was named Region X Coach of the Year leading her team to an undefeated conference record. Moreover, she spent time as the Assistant Women's Basketball Coach at Spring Hill College in Mobile, Alabama.
Her career as a head coach began at the high school level in Louisiana, where she coached at John Curtis Christian leading the girls program to two LA girls' basketball state titles in 07' and 08', a first in school history. She also would earn the Louisiana 2A Coach of the Year award for her efforts.
Coach Baker is no stranger to winning. Baker boasts an impressive 98-39 record (.632) as Head Coach in her combined positions at both the collegiate and high school levels and looks to improve on that record right away with the Lady Rams.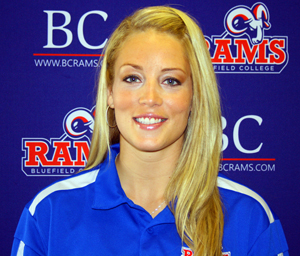 Baker to lead Women's Basketball program
When discussing with Baker her initial process of taking over the program, she was very emphatic on her goals. "My first task is to implement the following daily standards for our team and for them to be successfully met everyday: 1.) our team to improve our basketball skills and iq 2.) create an atmosphere of discipline, selflessness, respect, and commitment to excellence on and off the court 3.) grow stronger in our walk with God. Then, find elite players that will compliment the already existing team and talent that will push this program to compete on a national level."
Baker has not only been effective as a coach, but also as a player. An NCAA-Division II standout for the University of West Florida, Melissa holds the all-time records in rebounds and shot blocks in women's basketball. Also, she was named All-South region 2nd team member and Division II All-American Honorable Mention in 2005.
She brings a young, energetic spirit to the Rams Athletic program with the success and experience she's culminated in recent years. Baker has also been a part of the prestigious Nike Skills Academy on a regional and national level as a staff coach, which will inevitably boost the development of recruitment and scouting of incoming players for the Lady Rams program. And this was exactly why Athletic Director, Pete Dryer, chose Baker to take over the reigns as head coach.
"We are very excited to have Coach Baker join our staff here at Bluefield College. She brings an excellent background in coaching, including numerous championships and awards, as well as the ability to recruit talented student-athletes. In addition, and most importantly, she has a strong commitment to developing character and connecting her faith with those she coaches. She wants to see her players succeed, whether it's in the classroom, on the court, or in life – and she is very passionate about that."
The Lady Rams new coach will bring her skills and knowledge to Bluefield College ahead of the 2011-2012 season where she will look to improve on an 11-22 record from a year ago. Her team will lose three seniors, Kiara Williams, Kiara Honore' and Katrina Morris. With a large contingency of returnees, it's a guarantee Baker will inject new flavor, style and recruits into her first season.
"Defense is my basketball philosophy: We want to turn teams over and create our offense out of our defense, Baker said. Create situations where we have advantages and execute. Have a "We" over "Me" mentality, a "Fighters" mentality, and a "No Excuse" mentality. Everyday our team will be challenged to compete, think, overcome, and persevere."
For more information, news, live scores, stats and more, follow the Bluefield College Rams via Twitter at @BluefieldRams or online at www.bcrams.com.
All Content ©2013 Bluefield College / Powered by
Ekklesia360