Alley set records at Richlands, will now take volleyball skills to Bluefield College
6-foot-1 Rachel Alley signed to play volleyball at Bluefield College during a ceremony on Wednesday in the Richlands High School library.
Bluefield Daily Telegraph
December 12, 2012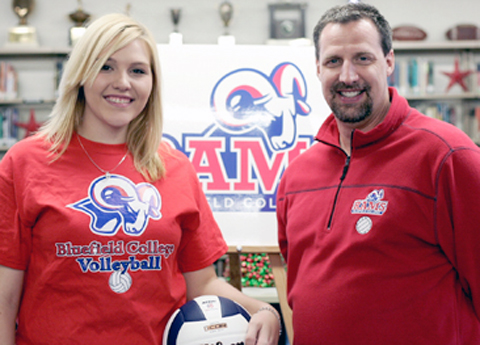 Rachel Alley with Bluefield College Volleyball coach Brian Votaw
Original content provided by Brian Woodson of the Bluefield Dailey Tellegraph
RICHLANDS, Va. — Rachel Alley re-wrote the record books at Richlands. Time to aim for higher goals in 2013.
The 6-foot-1 senior signed a letter of intent to play volleyball at Bluefield College during a ceremony on Wednesday in the Richlands High School library.
"I am really excited, I have been looking forward to this day my whole life and I know I made a good decision," Alley said. "Going to Bluefield College, I have been talking to the coach for a while now and I love the girls and I love it up there so it is really a great decision."
Bluefield College volleyball coach Brian Votaw isn't arguing with that assessment. His Rams doubled their win total last season to 16. Alley is part of his plan to build a competitive program in the Mid-South Conference.
"She is going to be something special at the college level because she is already a tremendous blocker and not even having played club (ball) or had any experiences like that so she is a diamond in the rough," Votaw said. "She is going to be something special by the time she is an upperclassmen in college for sure."
Alley was something special for three season at Richlands, setting career records for kills (846) and blocks (225), and season marks for kills (385) and blocks (110).
Those 110 blocks are the seventh most in state history, according to the Virginia High School League record book.
"She has been a tremendous asset to our program here, it has been a joy watching her grow and improve over the years and it has been a privilege being her coach," Richlands volleyball coach Ronnie Sparks said. "It is great having an athlete like that, she is a good athlete, tremendous in the classroom, I think she has a 4.0 GPA, she is just an all-around great kid.
"She is going to leave a big hole in our program. It is kind of hard to replace a 6-foot-1 middle hitter that put up the stats she put up for us over the last three years."
Alley also set match-high marks with 31 kills in a win over Tazewell last season, and twice had a school record 10 kills in single games in victories against the Bulldogs and Marion.
No wonder Alley, who is also a standout post player for the Richlands girls basketball team, knew her future was in volleyball.
"I have played basketball since I was like 4, but when I started playing volleyball in sixth grade I knew that it was the sport for me," Alley said. "It just came to me naturally and I have more fun with it.
"Basketball I had always worked hard for and I have had a great time doing it, but with volleyball I knew I would be able to go to college, have a good time and be able to do it. Volleyball is the sport that I have a passion for and the sport I want to put my time into."
That is good news for Votaw. Bluefield brought in nine freshmen last season, and improved from eight to 16 wins in one year, despite losing a remarkable 238 sets due to injuries.
"Our top seven starters missed that many games and we still doubled our win total so we think it could have been an incredible season with all of them," Votaw said. "We just believe coming into this next season with adding Rachel to the mix that it is just going to make the team even more impressive."
Alley earned numerous honors for her play on the court, including twice being an All-Southwest District first team honoree, and a two-time Region IV honorable mention selection.
She was also part of the Lady Blues' squad that unseated Carroll County as SWD champions in 2011.
"She set several records here at Richlands High School that will be hard for anybody else to probably eclipse," Sparks said. "She is proud of those accomplishments and I am proud I have had her at Richlands."
Sparks thinks she'll fit in just fine playing for the Rams in the Dome Gymnasium, a building he is very familiar with.
"I am glad to see her go on and further her career, and playing for Bluefield College, that is where I went to college so I am excited about that, it is close by so hopefully I will get to watch her play a little bit," Sparks said. "She will be a tremendous benefit to them.
"She is a great blocker and a great hitter and she has got a lot of potential to get even better than she already is so I think getting up there at the college level she will adapt really well with that and transition great into that.
"I think she is going to do a wonderful job, I expect her to put up some big numbers at Bluefield so it will be fun to watch her."
Alley's numbers could have been even tougher for the next person to reach. Sparks figures she had at least 120 kills as a ninth grader on the junior varsity squad.
"She did a good job that season, they don't really count in your varsity stats, but over three seasons she just continued to progress and progress and get better and put up bigger numbers every season," said Sparks, whose program also produced Ashley Morgan, who recently completed her career at Virginia Intermont. "It has been joy to have her on our team and in our program and I am just excited for her."
Alley had hoped to continue her athletic career at a school close to home, and she was looking for a Christian college. She found both at Bluefield.
"I knew that Bluefield was the place for me, I went up there and I stayed with the girls and we get along really great and the coach is great," Alley said. "He knows how to make me better, make me a better person and make me a better player so that is what sold me."
So did the improvement shown in the program.
"I know the program at Bluefield has got so much better over the past couple of years," Alley said. "I know we had a great group of girls this year and I am just looking forward to coming up next year and hopefully help keep that momentum as a team."
Picked to finish last in the Mid-South in the fall, the Rams finished 16-22 and qualified for the postseason tournament.
"I think a lot of people used to refer to us as 'Who-Field' and now they kind of know who we are," said Votaw, with a smile. "We were very successful last year, we doubled our win total from 8 to 16 in one season despite having a tremendous amount of injuries..."
Votaw expects the 6-1 Alley to be able to 'shut down opponents' at the net.
"She clearly can do that and she is clearly going to be a force," Votaw said. "This is no disrespect to the school that she is from, but once she gets trained at a higher level, her best years are still ahead of her."
Alley plans to take what she learned at Richlands, and put it good use at Bluefield.
"I have always had a great work ethic through (Coach Sparks) and through every sport at Richlands," Alley said. "That is what makes it great is the work ethic and good morals.
"That is what I hope to be able to carry over to Bluefield and be able to represent Richlands up there."
—Contact Brian Woodson at
All Content ©2013 Bluefield College / Powered by
Ekklesia360