Albarran Named NCCAA DI National Player of the Week
Erik Albarran was named the NCCAA Men's Soccer Division I Student-Athlete of the Week
Rudy Roediger
October 18, 2012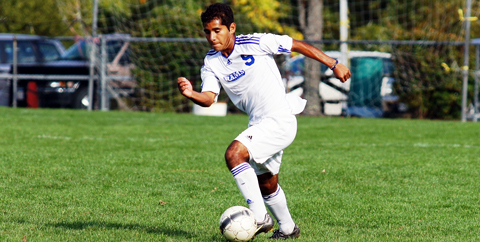 Erik Albarran collected his second honor of the week
GREENVILLE, S.C. -- Bluefield College's Erik Albarran collected his second honor of the week when National Christian College Athletic Association officials announced he was the Men's Soccer Division I Student-Athlete of the Week for the week of October 15, 2012.
The honor is his second honor of the week after earning Mid-South Conference Offensive Player of the Week and it's his first NCCAA honor of his career, second for Bluefield College this season following women's soccer player, Pip Pattison honor in September. Albarran was selected from a list of 13 nominations from across the country.
Each student-athlete was nominated by his/her respective coach and exemplifies the Christian ideals held by the NCCAA.
Albarran scored four goals in two Mid-South Conference wins for Bluefield to earn MSC Offensive Player of the Week honors.
The Houston, Texas, freshman midfielder scored his first career hat-trick in a come-from-behind 6-4 win over University of Pikeville to begin the week. Albarran contributed the lone goal in the Rams' 1-0 win over St. Catharine College to run the Bluefield winning streak to three straight matches.
Against the Bears Albarran brought the Rams back from a goal down twice as BC played the final 30 minutes with just 10 men. He then scored the final goal in what was a dramatic win as Bluefield scored three times in the final eight minutes and 45 seconds to win its second conference game. On Saturday the 5-foot-8 midfielder scored the lone goal giving Bluefield its first season with three conference victories in modern history as they moved into fifth place in the MSC with a 3-3-0 mark, the win also moved BC one win away from tying last year's mark of eight overall victories in a single season.
In his first season Albarran ranks first on the team in goals (12) and points (26) while accounting for .483 percent (14-of-29) of the Rams goals this season and is one goal away from tying the single season individual mark for goals (13) in a season in modern history at Bluefield College set by Eric Pozzani in 2007.
Albarran is tied for third nationally in the NCCAA with 12 goals while his 26 points ranks eighth. The Rams rank 24th in points per game (5.36) in the NCCAA a .57 improvement from a year ago when BC set the single-season mark for victories (8).
Bluefield improved to 7-7-0 overall this season and 3-3-0 in the MSC with last week's pair of victories.
The next NCCAA Student-Athlete of the Week is scheduled to be announced on Tuesday, Oct. 23.
All Content ©2013 Bluefield College / Powered by
Ekklesia360