Officers
Education
B.S., Business Administration, Concentration in Information Technology, Bluefield College, '02
Bio
Brandon is a 2002 graduate of BC. While a student, he was president of the Resident Hall Council, in addition to his involvement in other student activities on campus. After graduation, Brandon began working for SunTrust Bank in Roanoke, Virginia, where he served in various roles for over ten years, rising to a Vice President position and Business Banking Relationship Manager before his exit in 2013 when he was led back home to Clifton Forge (VA). In August of 2013, Brandon began working for Highlands Community Bank in Covington (VA) as a Community Banking Officer, where he continues to work today. In 2012, he was asked to participate in the second Bluefield College vision session and later joined the Alumni Association in 2013. He is currently the sitting President of the Alumni Association Board. Brandon, along with his wife, Kara, and daughter, Amelia, reside in Clifton Forge.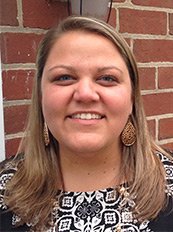 Education
B.S., Exercise and Sport Science, Concentration in Sport Management, Minor in Coaching, Bluefield College, '08
Bio
Jennifer is a 2008 alum of Bluefield College. While a student, she was involved in Alpha Delta, Greek Council, as well as the Football Feasibility Committee, which studied bringing the sport back to BC. After graduation, she held several positions at the University of Richmond (VA), most recently being an integral part of the Development team in the Major Gifts sector, as well as Assistant Coach for the nationally-ranked Synchronized Swimming team. Jennifer is currently on staff at Hope Church in Richmond and serves her church as the Database Administrator. She enjoys traveling, trying out new recipes, country music, and being on any body of water anytime of the year.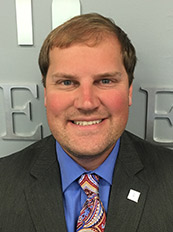 Education
B.A. Christian Studies; Bluefield College, 2008
B.S. Criminal Justice, Pre-Law; Bluefield College, 2008
J.D. Appalachian School of Law
Bio
Zachary Smith started attending BC in 2004, where he was a member of the BC Golf Team. Zach was extremely talented academically at Bluefield College, being inducted into the Alpha Chi National Honor Society and Theta Alpha Kappa Christian Studies Honor Society. He graduated in 2008 Cum Laude and was on the Dean's list for six semesters. Additionally, Zach was active in intramural sports and other events on the Bluefield campus. He now has a J.D. from the Appalachian School of Law.
Term Ending 2017
Education
Associate Degree, Education, Bluefield College, '73
B.S., Education, Virginia Commonwealth University
Post Graduate Studies, Counselor Education, Virginia Commonwealth University
Bio
Dennis was Sophomore Class President while a student at Bluefield College and served as Director of Student Activities from 1975-77. He is a top-performing sales professional with international sales and marketing experience in the commercial, industrial, and municipal markets. Originally from Richmond (VA), he graduated from BC with an associate degree and completed his undergraduate and graduate studies at Virginia Commonwealth University. Dennis proudly serves on the Board of Directors for the Bluefield College Alumni Association.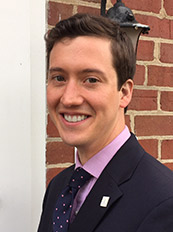 Education
B.A., Christian Studies, Minor in Graphic Communication, Bluefield College, '11
Bio
Scott is a 2011 graduate of Bluefield College's Department of Christian Studies. He was active in the Beta Chi Delta fraternity and served as Men's Bible Study leader for BCM. He spent his first year after BC serving as a volunteer at the Roanoke Rescue Mission, a Christ-centered drug and alcohol recovery program and homeless shelter. It was there Scott developed his calling to serve others and was able to distinguish a passion for helping them succeed in their life paths. He has been blessed with many opportunities to pursue this passion both personally and professionally, including volunteering with his home church. Scott is excited to be a part of the Bluefield College admissions team, where he knows he will be able to help students reach their goals and achieve their calling, too.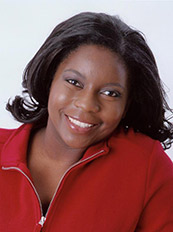 Education
B.S., Criminal Justice, Bluefield College, '06
Bio
Shannon is a 2006 graduate of the Bluefield College Criminal Justice Online Program. Originally from southeastern North Carolina, Shannon is now a resident of Prince William County, Virginia, and has been since the spring of 2001. After many years of working in the private sector as a contractor, Shannon decided to start her own business as a Real Estate Consultant with Long & Foster Realtors in Manassas, Virginia. She has been in business since 2011.
Shannon and her husband, Rick (also a Bluefield College graduate), have been married for 20 years. They enjoy spending time together and with their two dogs, Whistle and Phillip Yahtzee.
Her favorite quote is from the famous public speaker Les Brown, "Other people's opinion of you does not have to become your reality."
Term Ending 2018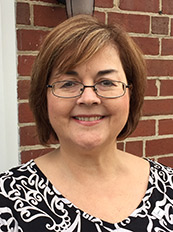 Education
B.A. Social Studies Education; Bluefield College, 1986
M. Div. Theology and Counseling; Campbell University
Bio
Rebecca Bentley Hall is a 1986 graduate of Bluefield College. Her 20+ years of work experience has included office administration, trade show management and marketing in Northern Virginia.
Following a 20-year call into ministry, Rebecca and her family moved to North Carolina to pursue an M.Div. at Campbell University. Upon graduation, she served for a summer as a chaplain intern at Trauma 1 hospital in Raleigh. Soon after, she worked for three years as the Minister of Children and Missions at Ridge Road Baptist Church.
Rebecca is currently committed by serving on the Resource Commission of the Raleigh Baptist Association, the Advisory Council of Caring Connections Ministry (CCM), a mentor to a CCM participant, the costume committee at Spiritual Twist Productions (a Christian theatre company for youth), and chairs the Hospitality Committee at church. Rebecca is also the administrator of her neighborhood Facebook page and the page Bluefield College - 80s Alumni.
While at Bluefield College, Rebecca served on the yearbook staff, was involved with many theatre productions throughout the school year and in summer, and was on the Mud Pig Day Committee for three years. Rebecca is pleased to be part of the committee that organized the first water slide down the hill of Rish Hall!
Rebecca is a wife to Tim, a step-mother to Sierra (27) and a mother to Carter (15).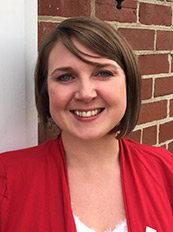 Education
B.S., Biology; Bluefield College, 2005
Bio
LeAnn is a 2005 graduate of Bluefield College. With a heart for helping others, LeAnn has worked with non-profits such as Big Brothers Big Sisters and Ronald McDonald House, located in Huntington, West Virginia. Recently, she worked as Development Coordinator for CASA of the 11th Judicial Circuit Court in Lewisburg (WV). CASA (Court Appointed Special Advocates) is a volunteer driven non-profit organization that help give abused and neglected children a voice in court and ultimately help to place these children in safe, permanent homes.
As a junior at BC, LeAnn was awarded the London Scholar opportunity, spending a semester abroad learning of Great Britain's history. She was a resident assistant for three years and served on Greek Council as a representative for Alpha Delta Sorority. She resides in Lewisburg with her husband, John, and two children, John Solomon and Harper Lane. She loves interior design, event planning, and helping others.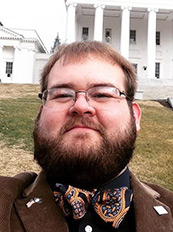 Education
Associates Degree, J. Sargeant Reynolds Community College, 2011
B.A., History, Bluefield College, 2013
M.A., Education, Bluefield College, 2015
Bio
Morgan Lloyd is a two-time alumnus of Bluefield College. First graduating in 2013 with a B.A. in History with teacher licensure, Morgan pursued his passion and became a teacher at Richlands High School in Tazewell County, Virginia, where he is an instructor of social studies. Morgan continued his education at BC, earning his master's degree in 2015.

While a student, Morgan played an active role in Residence Life, where he served for one year as a Resident Assistant and two years as a Residence Hall Director. He was a member of the Student Government Association, Student Union Board, and Beta Chi Delta Fraternity. He also participated in mission trips, spent time in China, and was a representative of Bluefield College at the annual VTAG event in Richmond for several years.

In addition to teaching, Morgan is the Next Generation Coordinator for Highlands Fellowship on the Bluefield campus.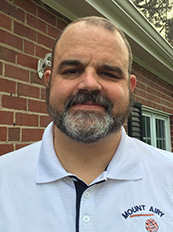 Education
B.S. Social Studies and Physical Education, Concentration in Secondary Education; Bluefield College, 1988
Bio
Howard Mayo graduated from Bluefield College in 1988, where he was a member of the men's basketball team. He was also president of the student body in 1987 and a Residential Advisor for three years. Howard has been married to Deborah Easter Mayo for the past 23 years and has three wonderful children: Alex, Abby, and Adam. He lives in Fancy Gap, Virginia, where he is a member of Skyview Baptist Church. He is a deacon and director of Sunday Schools. Howard has been teaching for the past 28 years with the last 12 being at Mount Airy High School. He has also been a head girls' basketball coach for 23 years.
Term Ending 2019
Education
B.A., History, Bluefield College, '78
Bio
Rev. Brent L. Brown graduated from Richwood High School in Richwood, West Virginia, in 1973. He graduated with a B.A. in History from Bluefield College in Bluefield, Virginia, in 1978. He also obtained his teaching certification for the state of Virginia. After working at SMR Technologies in Fenwick (WV) for approximately 10 years, he felt the call to ministry and decided to attend seminary. Rev. Brown graduated from Emory University in Atlanta, Georgia, in 1993 with a Master of Divinity degree in Theology. While attending Emory University, Rev. Brown served his first appointment at Mount Pleasant United Methodist Church in Social Circle (GA). Following his graduation, he was appointed to the Nicholas Charge in Summerville (WV), where he served until 1998. He was ordained as a deacon in 1993 and as an elder in 1995 through the West Virginia Conference of the United Methodist Church. Rev. Brown was next appointed to the Mullens United Methodist Church in Mullens (WV), where he served from 1998-2001. He was then appointed to Greenview United Methodist Church in Bluefield (WV), where he served until 2011. Rev. Brown is currently serving at Lindside United Methodist Church in Lindside (WV).
Rev. Brown has served as Parish Coordinator for the Summersville Cooperative Parish and the Wyoming County Cooperative Parish. He has served on various ministry boards, including "Hands of Hope" and "Volunteers in Mission," and served on the Board for the Glenwood Park Retirement Village and the Board for the Southern District Lay Speaking School. He has led mission teams locally and abroad to Russia and Hungary.
Rev. Brown has been married for approximately 38 years. His wife Deborah is a Behavioral Health Therapist at Princeton Community Hospital. He has two sons, Brad and Cody. Brad and his wife, Cassie, live in Morgantown (WV), where they are raising their two-year-old, Jaxson. His younger son, Cody, works in Princeton and still lives at home. Rev. Brown especially enjoys "storytelling," drinking coffee, and being a grandfather. He is excited to be appointed to Bland Street and Trinity United Methodist Churches.
Education
B.S., Public Safety, Bluefield College, '14
Bio
Over the last twenty-four years of military service, Derek has been described by leadership as direct and determined, driven by a will to succeed, but anchored by a strong moral and ethical foundation. It is these traits that Derek took with him into the next phase of life beyond the military. The abilities he brings are battle tested and proven in some of the most hostile environments in the world. He has supervised organizations ranging in size from 4 to 7,000 personnel both in peacetime and deployed overseas. Derek's other skills include teamwork, leadership, crisis management, adaptability, public speaking, resource management and plan development. Additionally, he holds a secret security clearance issued by the Department of Defense.
Academically, Derek has a Bachelor of Science degree in Public Safety with a concentration in Emergency Management and Homeland Security from Bluefield College.
As an Army ROTC instructor at Radford University for the last three years, he has had the unique opportunity to help in the personal and professional development of over 200 young men and women. While his career as an Infantryman in the Army has had its challenges and rewards, nothing compares to the ability to help influence a young Soldier or Cadet.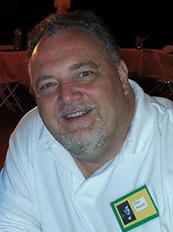 Education
B.S., Social Studies, Bluefield College, '88
Bio
Tim Mann graduated from Bluefield College in 1988. While at BC, Tim was co-captain on the baseball team, asst. head resident, president of Phi Mu Delta, BSU council member, SGA vice-president and announcer for the basketball team. Tim and his wife, Kim, have one awesome son, Scott, and live in Greensboro, North Carolina. Tim's family are active members of Friendly Ave. Baptist Church Greensboro. Tim has been a Lab Tech for Evonik Industries for 14 years, Kim is a school teacher for Guilford County Schools, and Scott is a Miracle League Baseball All-star and his dad's best buddy ever.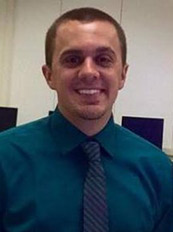 Education
B.S., Exercise and Sport Science, Bluefield College, '13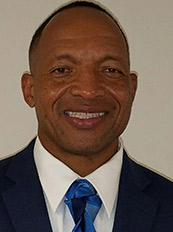 Education
B.S., Business Administration, Bluefield College, '86
Bio
Sammy Poindexter graduated from Bluefield College in 1986, where he was a member of the men's basketball team. Sammy, known best for his defensive skills, made many contributions to a successful basketball team and was inducted into the Men's Basketball Athletic Hall of Fame. He has been employed with Altria Group Distribution Company as a Territory Sales Manager for 28 years in the Southwest Virginia area. Sammy is a leader at his church, Jubilee Christian Center, and he serves as President of the usher board. He is a lifelong resident of Pulaski, Virginia, and lives with his wife of 30 years, Flora Poindexter. They also have a son, Corey, who resides in Charlotte, North Carolina.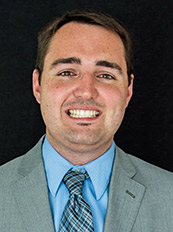 Education
B.S., Interdisciplinary Studies with Licensure, Bluefield College, '09
Bio
Robert is a 2009 alum of Bluefield College. After graduation, Robert returned to his hometown and elementary school in Fairlawn, Virginia, to teach in Pulaski County. In 2012, Robert became an Instructional Technology Resource Teacher for Pulaski County Public Schools. Robert graduated from Radford University in 2015, earning his master's degree in Educational Leadership. Beginning the 2017-2018 school year, he will be principal at Indian Valley Elementary School. He currently lives in Christiansburg (VA) with his wife and two daughters.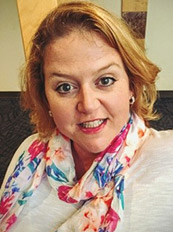 Education
B.A., Communications, Bluefield College, '96
M.A. in Liberal Studies, University of North Carolina at Greensboro, '05
Bio
During her years at BC, Sara was captain of the basketball and softball teams, a DJ on WRAM Radio, and co-editor-in-chief of The Rampage. After graduation, she served as head softball coach, and was a Title IX committee member at Bluefield College. Sara lived in the sports world for more than 15 years as a writer, editor, content manager and reporter for television, radio, newspaper, magazine and web. For more than 12 years, she has worked for Aon Hewitt Consulting as a senior writer, client lead and consultant within the communication practice. Sara currently develops comprehensive employee benefits and wellness communication strategies for her clients. Sara volunteers with her local church and coaches her kids' baseball teams. She's also the captain of the "SHEROES," a local Susan G. Komen for the Cure race team. Sara is married to fellow BC alum Mike Rutherford ('98), and they reside in Winston-Salem, North Carolina, with their two children, Ryan and Daisy Lee.
Education
B.S., Psychology, Bluefield College, '10
Bio
Courtney (Robertson) is a 2010 graduate of BC. While at Bluefield, Courtney was a member of Residence Life, BCM, Alpha Delta, and the Psi Chi National Honor Society for Psychology. After graduating, Courtney attended two Child Life internships in Tampa, Florida, and Little Rock, Arkansas, to become a Certified Child Life Specialist. Later, Courtney obtained her Registered Nursing license to specialize in care at the end of life. Residing now in Gretna, Virginia, Courtney works as a Hospice Nurse where she has created a grief counseling group for children and adolescents and serves all ages at the end of life.
"My time at BC prepared me not only for a career, but it equipped me spiritually with a heart to serve my community and love people at such a difficult time. Because of those who poured into me while I was a student, I now can pour that same love into those I serve each day."
Courtney enjoys her free time kayaking with husband Ben, hunting, reading, and spending time with friends and family.
All Content ©2017 Bluefield College / Powered by
Ekklesia360