The Quality Enhancement Plan
Bluefield College seeks to develop students' potential through academic excellence and the intentional integration of faith in liberal arts and professional studies. We believe that students who struggle with written communication routinely leave the college in two years or fewer. Evidence suggests that if students could raise the level of their writing skills as sophomores and juniors, they would be more academically successful and be more likely to stay at Bluefield College for four years. Students who do continue to graduation demonstrate a basic competence in writing skills based on scores on the CAAP test.
The Quality Enhancement Plan (QEP), "The Confident Communicator," has been developed not only to prepare more effective graduates for the workforce or further education, but to help students succeed while matriculating at Bluefield College; therefore; boosting retention and enrollment. Thus, this QEP is foundational and fundamental to student learning; upon its success rests the financial sustainability of this tuition-driven institution. The hallmarks of the Confident Communicator QEP include intentional assessment of writing skills from incoming students to graduating seniors, enhanced sophomore- or junior-level courses in each department to model for and instruct students in the fundamental components of writing in the discipline of the students' major, and multiple opportunities for faculty development in the teaching of writing such as workshops during the academic year and off-campus summer training opportunities.
Click the link below to view our Quality Enhancement Plan.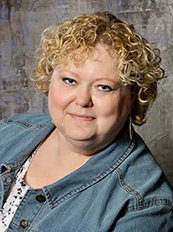 Education
M.A., Literature and Writing, Union Institute and University, '11
B.S., Organizational Management, Bluefield College, '06
Bio
Crystal White Kieloch has been with Bluefield College since 2000 and currently teaches literature and writing in the English Department. She is also the Director of the QEP (Quality Enhancement Plan) entitled The Confident Communicator which is a writing program designed to reinforce writing skills throughout the majors and curriculum of the College.
Kieloch's thesis: Quest Divina: A Journey into the Feminine Spiritual Memoir explores five memoirs by women from diverse spiritual traditions and further solidified her journey toward completing her own memoir and encouraging women to share their stories. She is currently writing a personal memoir which tells the story of her Appalachian coming-of-age. When teaching memoir writing workshops she encourages women and senior citizens to write their stories. She says, "Your messy, beautiful story matters. Tell it!" Her poetry focuses on the complexity of relationships and the grandeur of the Appalachian region and has won several local and regional awards. She is also at work editing several unpublished novels written by her late husband.
She serves on the Board for the New Opportunity School for Appalachian Women (NOSW) which reaches out to underserved Appalachian women and is a part of the local board for NOSW at Bluefield College. When the New Opportunity School is in session, she teaches a workshop on creative writing and a workshop on personality styles. Additionally, she is an advocate for libraries and is a part of the Tazewell County Friends of the Library and has been a part of this group for many years.
All Content ©2017 Bluefield College / Powered by
Ekklesia360