Education
B.S. Mechanical Engineering, N.C. State University
M.S. Forest Management, N.C. State University
Ph.D. Educational Psychology, Georgia State University
Bio
Dr. Boozer worked as a manager with the Procter & Gamble Company for ten years before responding to his call to teach. He has been committed to higher education since 1987, serving on faculties at Georgia State University and Huntington University in Indiana. His background in leadership and management also enabled him to serve in various administrative roles, including Assistant to the President for Long-Range Planning at Huntington and Director of Institutional Research and Effectiveness at both Francis Marion University in South Carolina and LaGrange College in Georgia. He has served as a consultant for many institutions seeking to improve their strategic plan and/or their approach to institutional evaluation.
Since arriving at Bluefield, he has strengthened the Psychology major by adding courses in the psychology of religion, the psychology of leadership, advanced research methods (here students conduct and present original research), positive psychology, multicultural counseling, and cognitive psychology. The College's Psi Chi chapter is also now active. In addition, he is responsible for the development of the unique series of core courses in the general education program, which distinguishes Bluefield from other liberal arts colleges.
Dr. Boozer is also a licensed local pastor with The United Methodist Church, West Virginia Conference, and serves a church in Princeton, West Virginia.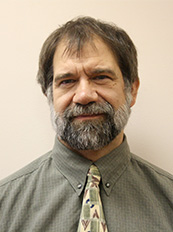 Education
Ph.D. in Mathematics, Virginia Tech, '03
M.S. in Mathematics, Virginia Tech, '93
M.S. in Geology, Virginia Tech, '90
B.S. in Geology, Virginia Tech, '87
Bio
Dr. Buterakos came to Bluefield College in 2002. Prior to joining the faculty at BC, he held the position of Instructor of Mathematics at Virginia Polytechnic Institute and State University from 1997-2002. Dr. Buterakos has always embraced an interdisciplinary approach to the Sciences, which eventually led him to complete a Doctorate in Mathematics in 2003. He also possesses teaching credentials in the physical sciences and is working toward obtaining teaching credentials in physics. Dr. Buterakos serves as the Faculty Athletic Representative to the NAIA, in which capacity he is responsible for ensuring that all athletes are eligible in accordance with the rules and regulations of the NAIA prior to representing BC in competition. He teaches or has taught courses in College Algebra, Mathematics of Finance, Statistics, Precalculus, Multivariable and Vector Calculus, Differential Equations, Abstract Algebra, Elementary Real Analysis, Numerical Analysis, and Physical Science.
Education
B.A. in Geography, California University of PA, 1991
M.S. in Sport Management, West Virginia University, 2009
Bio
Kevin began working at BC in the Summer of 2011, relocating from Pittsburgh, PA. He has worked within the Sport Industry for over 20 years, having owned and operated four businesses:
-K.W.D. Communications - Sales and installation of communication operating systems.
-Mon Valley Dek Hockey - A multi-purpose sports complex.
-Keystone Sports - An athlete recruiting firm.
-Currently, he owns and operates Sportangles, a sport management and consulting firm.
Kevin has also worked as a realtor, assisting buyers and sellers in commercial and residential transactions. Along with this, Kevin worked at Nemacolin Woodlands & Resort, a five diamond property located in Farmington, PA. Here, he worked in all aspects of the golf operations, including management of two golf courses and as golf group and event coordinator. Also, he was involved in the planning and organizing of four PGA Tour Championships.
Kevin enjoys working with and challenging young adults to become the very best they can be in all of their endeavors. He particularly enjoys watching students grow, learn, mature, and improve in all areas of their lives, especially academically, athletically, and in their faith journey. His faith is his motivation to do his job with a positive attitude and to the best of his ability. He detests negativity and apathy, knowing they can destroy a person quickly.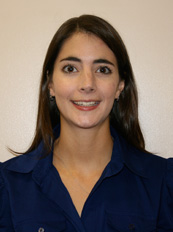 Education
Ph.D. in Biological Sciences, Virginia Polytechnic Institute and State University, 2010
B.S. in Biological Sciences, Concord University, 2005
Bio
Dr. Emily Lambert joined the Bluefield College family in 2010. Prior to teaching at BC, Dr. Lambert was a graduate teaching and research assistant at Virginia Tech. During her time at Virginia Tech, she taught General Biology, Microbiology, and Pathogenic Bacteriology labs. Her graduate research involved using microbial genetics to study germination in Bacillus anthracis, the causative agent of anthrax. The courses that Dr. Lambert teaches at Bluefield College include General and Fundamentals of Biology, Molecular Biology, Microbiology, Genetics, Immunology, Parasitology, and a variety of special topics. Dr. Lambert strives to bring out the best in her students so that they may realize their full potential as students and children of God. In her spare time, Dr. Lambert enjoys spending time with family, farming, and traveling.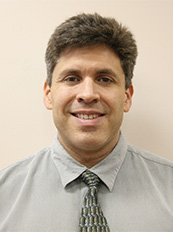 Education
Ph.D. in Exercise and Health Promotion (emphasis in Sports Psychology), Virginia Tech, 2010
M.S. in Exercise Physiology, University of Tennessee, Knoxville, 1992
B.S. in Exercise Science, Bluefield College, 1990
Bio
Doug Minnix, Ph.D., is an Associate Professor of Sport Medicine at Bluefield College, where he has taught since 2001. Doug's academic focus and research interests have covered a broad spectrum in sport medicine. His undergraduate focus was in exercise physiology and wellness. These interests were strengthened during ethnographic field research in Kyoto, Japan. This research opportunity afforded complete immersion into the Japanese culture. Subsequently, Doug gained an emic perspective into Japanese indigenous health practices, religion, and martial arts. Doug's research evolved into his senior thesis, submitted to Friends World College, Kyoto, Japan.
His master's work at the University of Tennessee promoted specialization in three areas of human performance, including biochemical aspects of exercise physiology, spinal stabilization in therapeutic exercise, and cardiac rehabilitation. During graduate studies at UT, his research focused on ramp protocols for stress testing and prospective coronary risk factors, such as waist circumference and the ear crease sign.
Following graduate studies at UT, he took the position of Clinical Program Director for the cardiopulmonary rehab and therapeutic exercise programs at Wilkes Regional Medical Center in North Wilkesboro, North Carolina. Doug has also worked in the field of Occupational Medicine as a Functional Capacity Evaluator and a therapist.
Doug received his Ph.D. from Virginia Polytechnic and State University in 2010. During his doctoral studies, his research focused on health promotion and sport psychology. His present interest includes the mental and biological aspects of mental toughness in high pressure contexts, such as defensive tactics. Recently, his work in the area of mental toughness was published a text written by Richard Cox; Sport Psychology Concepts and Applications. Doug has also made professional presentations of his work, including the Association of Applied Sport Psychology's 2010 Annual Conference.
Currently, Doug resides in Bluefield, Virginia, along with his wife of 20 years and three children. In his spare time, he practices and teaches karate and kung-fu. He is an active member of his church and enjoys "hanging out" with family.
Education
Ph.D. in Cell Biology, Vanderbilt University at Nashville, '96
B.S. in Biology, Liberty University at Lynchburg, '88
Bio
Professor Offield came to Bluefield College in the fall of 2011 as Associate Professor of Biology. Prior to this, Prof. Offield spent a year as Research Scientist at Vanderbilt University after completing his Ph.D. work, and then took a second research position at the University of Virginia. His research has involved many aspects of embryological development and the development of new technologies for studying development. Prof. Offield's Ph.D. work led to the discovery of one of the chief genes, PDX-1, which directs the development of the pancreas—and later regulates insulin production. This work has been continued by others as a possible way to cure diabetes. After taking the Research Scientist post at UVa, Prof. Offield was part of a team of researchers who were interested in developing genetic technologies within the Xenopus laevis—clawed toad—so that it could enable them to enhance the research of developmental processes. Prof. Offield also served as Associate Professor of Biology at Liberty University for nine years, just prior to coming to BC—teaching General Biology, Molecular Biology, and Embryology, as well as other courses. Prof. Offield often shares from Psalm 19 how the study of nature just shouts, "Glory to God!" Especially in the area of biology, the more we look into it, the more we are struck by awe and wonder at what God has made.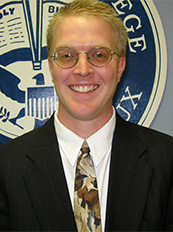 Education
Ph. D. in Chemistry, Pennsylvania State University, 2002
B.S. in Chemistry, Mathematics Minor, Messiah College, 1996
Bio
Dr. Saunders joined the Bluefield College community in the fall of 2007 as an Associate Professor of Chemistry. His background includes over 18 years of pedagogical leadership in chemistry, teaching class sizes from 1 to 200 (while at PSU) students. Dr. Saunders kindled a passion for instruction while at Messiah College, leading Supplemental Instruction study sessions for Organic Chemistry, followed by teaching assistantships while in graduate school, and five years as Assistant Professor of Chemistry at Concord College/University. He currently teaches the following courses at BC: General Chemistry I & II; Organic Chemistry I & II; Introductory General, Organic, and Biochemistry (online); Quantitative and Instrumental Analysis; Biochemistry; Medicinal Chemistry; Earth Science; The Science of Chocolate (online); and Chemistry Senior Seminar. His outreach includes overseeing a biennial chemistry laboratory sequence for primarily home-schooled high school students, directing Forensic Fun weekend events, and holding week-long science camps in the summer. Dr. Saunders encourages students as they ponder careers in science to apply one of his favorite verses, Romans 1:20: "For since the creation of the world His invisible attributes, His eternal power and divine nature, have been clearly seen, being understood through what has been made, so that they are without excuse."
All Content ©2017 Bluefield College / Powered by
Ekklesia360