Meet the Faculty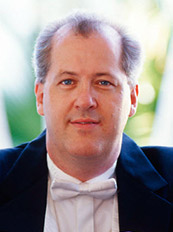 Bio
Pianist Harold Brown has enjoyed a performance career across North America, South America, Europe, and Australia. Mr. Brown's formal studies were at George Mason University and the Juilliard School. His teachers include Nina Svetlanova, Adele Marcus, and Josef Raieff. Mr. Brown's keen interest in style and performance traditions has led him to a broad range of study and research in various musical centers throughout the world, including Germany and Oxford, England. His affection for French piano music drew him to study in Paris with Gaby Casadesus and Vlado Perlemuter, both of whom were closely associated with Ravel and Fauré. As a student of Alicia de Larrocha, he received the Specialization in Spanish Music diploma from the Academia Granados Marshall in Barcelona. Mr. Brown has served on the faculty of Palm Beach Community College, and he travels frequently to judge competitions and give masterclasses.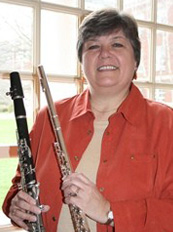 Bio
Ms. Teresa Hedrick serves on the faculty of Roanoke College and Hollins University as an Adjunct Instructor of Woodwinds. She has degrees from Central Florida Community College and Elon College. Additionally, she has studied at the University of South Carolina. Ms. Hedrick has extensive experience as a private teacher and as a performer. She has shared the stage with The Temptations, Maureen McGovern, Shirley Jones, and Gladys Knight. Ms. Hedrick also serves as a consultant in Marching Band Drill Design and Instruction. Ms. Hedrick teaches Applied Woodwinds.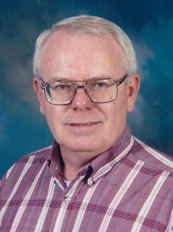 Bio
Mr. Leon Landreth received a Master of Music Education from Shenandoah University and a Bachelor of Science in Music Education from Concord University. Additionally, Mr. Landreth is retired with the rank of Lieutenant Colonel from the West Virginia National Guard. Mr. Landreth served for many years as Band Director for various schools in the region, including Princeton High School and Pikeview High School. Mr. Landreth teaches Applied Percussion.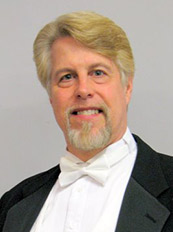 Bio
Dr. John-Scott Moir [basso] began his profesional career as a chorister with the San Diego Opera. John-Scott worked alongside great artists such George London, Joan Sutherland, Sherrill Milnes, Richard Leech, Aprile Millo, and Beverly Sills; conductors such as Richard Bonynge, Eduardo Müller, and Theo Alcantara. His PBS-TV debut (in the SDO's stunning production of 'The Merry Widow," with Sills and Alan Titus) decided his future career goals for him. In his fifteen seasons with the company, John proceeded to advance to comprimario parts, solo outreach, and (much to his surprise) as a featured dancer in the SDO's Russian Arts Festival production of Boris Godunov!
A founding member of the San Diego Gilbert and Sullivan Company (SDG&S, later S.D. Comic Opera) John worked under three former D'Oyly Carte veterans, who praised his 'impeccable diction and powerful voice,' – (Kenneth Sandford) as much as the critics praised his acting: "Easily the member of the cast with the greatest comic flair was John-Scott Moir as Poo-Bah" (San Diego Union). John-Scott also performed in musicals and operettas with the San Diego Civic Light Opera (Starlight), working under some of Hollywood's Golden Age musical personnel, including MGM studio conductor, Johnny Green.
A graduate of the Eastman School of Music (M.M.) and Shenandoah University (DMA), John's singing has been compared to "…a voice reminiscent of Hans Hotter" – (Tom Paul). Dr. Moir has studied with Bard Suverkrop, Gérard Souzay, Jane Randolph, Rudolph Piernay, and Craig Fields; sung with San Diego Opera, Opera Pacific, Pacific Chamber Opera, Santa Barbara Civic Opera, Akron Opera, Opera Lucca (Italy); as chorister/soloist with the Roger Wagner Chorale, Eastman Chorale, and the San Diego Master Chorale. In Minnesota, he has sung as soloist with Minnesota Chorale, Saint Paul Chamber Orchestra, St. Kate's Oratorio Society, Opera 101, Minneosta Center Chorale, Dakota Valley Symphony, Anoka Opera and numerous community theaters.
Dr. Moir has recorded for Pro Arte and Delos. His students have performed with the MN. Chorale, MN. Opera, Dale Warland Singers, been on the faculties of a number of Collegiate institutions, have toured in Hal Prince productions, been in National Tours of Broadway Musicals, adjudicated for International Singing Competitions, and performed on some of the most prestigious operatic stages in the world, including the Met.
As a Choral conductor, Dr. Moir came to direction with the express desire to be a conductor with first-hand knowledge of the human voice. When studying under choral directors such as Frank Almond, (SDSU) Zoltan Rosenyai, (USIU) Don Nueun (Eastman, USC) and Deen Entsminger (Belmont) Dr. Moir consistently sought to approach his conception of choral sound, with a decidedly 'free voice' model in mind. Dr. Moir was Director of Choirs most recently at Southwest Christian High School, Chaska, MN. Dr. Moir formed and was Founding Artistic Director for a decade with a Twin Cities semi-professional chorus, 'CORO!' - which sang with Minnesota Sinfonia, Dakota Valley Symphony, and joined with the MacPhail Center for the Arts' chorus (Sonomento) for a series of concerts during the Verdi Bicentennial year. Dr. Moir has been interviewed on Minnesota Public Radio.
Bio
Dr. Andrew Necessary received his Ph. D. and Masters in Music Education from the University of North Carolina at Greensboro and a Bachelors in Music Education from Elon University. For nine years, Dr. Necessary was a Professor of Music Education and Director of Bands at Concord University in Athens, WV. Dr. Necessary directed the Marching Band, Wind Ensemble, Jazz Band, and taught trombone, euphonium, and tuba, along with courses in band literature, jazz improvisation, brass methods, conducting, and music education. In 2002, Dr. Necessary was chosen by the Student Government Association at Concord University to receive the Joseph Friedl Outstanding Faculty Award. A trombonist, Andy has performed with luminaries such as Ray Charles, Guy Lombardo Band, Jimmy Dorsey Band, Ringling Brothers and Barnum Bailey Band, and Joe Williams.
Dr. Necessary serves frequently as an adjudicator for marching and concert band festivals, and as a clinician for trombone workshops and all county band events. Dr. Necessary lives in Tazewell, VA with his four boys, Spenser, Carter, Conner, and Parker. Dr. Necessary teaches Applied Low Brass lessons, Music Education courses, directs Jazz Band, and is coordinator of Athletic Bands.
Bio
Dr. Charles Priest received his D.M.A. from The Southern Baptist Theological Seminary in Louisville, Kentucky, M.C.M. from New Orleans Baptist Theological Seminary, and his undergraduate degree from Bryan College. He is an experienced private instructor of trumpet, guitar, and piano. His published works include articles, hymn texts, anthems, and hymn treatments. Dr. Priest has led and participated in music mission trips within the United States and internationally. He previously taught on the faculty of Boyce College and The Southern Baptist Theological Seminary. He currently directs the Concert Band and Community Orchestra. Additionally, Dr. Priest teaches Applied High Brass lessons, Music Theory, and Music Literature. He, his wife, Lenore, and daughter, Katy, reside in Bluefield, Virginia.
All Content ©2017 Bluefield College / Powered by
Ekklesia360