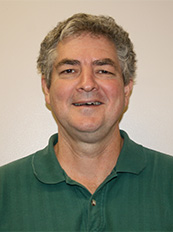 Education
M.F.A., Pennsylvania State University
B.F.A., University of Georgia
Bio
A native of Atlanta, Georgia, Walter Shroyer came to Bluefield College in 1991. Previously, Shroyer taught at Dekalb College in the Atlanta area and Georgia Southern College in Statesboro, Georgia.
Shroyer is the faculty sponsor for the Kappa Pi International Honorary Art Fraternity, the Bluefield College Art Club, and the Bluefield College Outdoor Club.
Shroyer works in several mediums, but ceramics is his first love. In his current ceramic work, he seeks to increase consciousness of the fragility of our environment, employing mosaic-like tree forms that exist at the intersection of man and nature. Using stoneware clay and found objects as his materials, he collapses wheel-thrown vessels, which then become a home to a variety of discarded found objects. Preservation and stewardship of the natural environment is always an important theme in his work. Shroyer also works in Printmaking, Watercolor, Collage, and Oil Painting. His website is http://www.angelfire.com/va3/inspiringimages.
You may purchase his work online or at Heartwood in Abingdon, Virginia and the Appalachian Arts Center in Claypool Hill, Virginia.
All Content ©2015 Bluefield College / Powered by
Ekklesia360