About BC
Virginia's premier Christ-centered Liberal Arts College
Dedicated to being Virginia's premier Christ-centered Liberal Arts College, preparing innovative learners and transformational leaders to impact a changing world, Bluefield College offers a challenging academic and co-curricular experience within a climate of diverse Christian tradition.
Bluefield College is accredited by SACSOC.
Meet President Olive and other members of the Leadership Team and Board of Trustees.
Everything you need to know From the Founding Fathers to the current era.
Stay current with everything happening on campus.
BC's Vision, Mission, and Core Values.
A great resource of information about Bluefield College.
In covenant with the Baptist General Association of Virginia, the college is committed to developing students' potential through academic excellence and the integration of faith, the liberal arts, career-oriented programs, and service to God and the global community.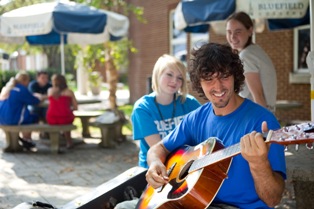 Located in the beautiful Appalachian Mountains in southwestern Virginia and accredited by the Southern Association of Colleges and Schools, Bluefield College boasts 44 academic offerings, including business, forensic science, graphic communication, criminal justice, teacher education and Christian studies. Bluefield College is touted for its classroom technology, affordability, personalized instruction, and learning settings on the mission field and in countries abroad.
The college's inSPIRE Online Degree Program for adults offers degree opportunities across the state in management, criminal justice, behavioral science, and nursing.
At Bluefield College, your experience is not just about college. It's about destiny or a calling. It's about exploring and finding your passion. Whether you have identified your passion or are looking for a place to discover it, Bluefield College is a place that is dedicated to your pursuit of passion.
All Content ©2013 Bluefield College / Powered by
Ekklesia360